Nevada Fish Report
Fish Report for 1-10-2017
Carson Now Fishing Report
Hello fellow anglers; nice fishing weather we are having. I wish I had more to report, but with our recent rain and snow falls. Not many anglers including myself have been out treading the waters. Except in our own back yards. Myself, I always want to have a river near my property. Now I have one going right through it. Water is a powerful force of mother nature. I urge all to stay away from any creeks or rivers in our area. Many river bank can become under cut by the force of water. Which creates a an unsafe bank to stand on. We have plenty of time to fish and visit the rivers later down the road.

TOPAZ LAKE; On opening day the weather cooperated and gave most of us a nice day to fish and bring in the new year. I fished with friend Tom Blotter from Minden. We were on the lake at 6 am and started fishing right at 6:16 am. We trolled with fire tiger and my new favorite pattern of Rapala, a hot steel color. Tom and I long lined #3 and #5 both jointed and floating Rapala's with good success. We also used our lead core and varied our depths between 3 to 6 colors of line. Our most successful depth of our troll was in 40 to 60 feet of water. The wind came up and down throughout the day. Which we changed our trolling speed from 2.5 to 3.5 mph. We fished until 4 pm and had a total of 19 trout ranging 13 inches up to 4 lbs. With most fish in the 1.5 to 2.5 pound class. On opening day the lake acreage feet capacity was at 27750. I check out the capacity as of January 10th, it was at 34000 acreage feet. The water has risen and turned a nice shade of chocolate milk. But there has been a few anglers fishing this week and have had good success. I would use cation if you are going to take a boat out this week. There will be debris from the run off from the Walker river. This can be dangerous and detrimental to your safety and will cause damage to your vessel. Always use cation on the waters. While we were fishing on opening day, we ran in to fellow angler that had lost motor function. Luckily he had a trolling motor to keep him from crashing onto the shore. As any fellow angler and boat operator, we gave him a safe tow back to the ramp. I always keep a safety flag on board just in case of an emergency. They can tell you if there is a person in the water close by and can also let other boaters know you are in trouble. For more information of fishing at Topaz Lake. Call the Topaz Marina at 775-266-3550.

TOPAZ LAKE DERBY RESULTS; On week one, Grant Stein from Topaz Ranch Estates NV, took 1st place with a 4.2 rainbow trout. While Ken Girdner from Gardnerville NV receive 2nd place with a 4.1 lb rainbow trout. The fist week there were 162 trout weighed in over 2 lbs with one tagged trout. Week two winners were John White from San Jose CA with a 4.2 lb rainbow trout. With John Hodges from Gardnerville NV received 2nd place with a 3.14 lb rainbow trout. There were 80 trout weighed in over 2 lbs for week two also. There were no tagged fish for the second week of the derby. With our better weather, I will be out next week trying again for those tagged fish which are worth $100 instant cash prize. I too want to be paid to fish. For more information on the Topaz Lodge Derby or to make reservations at the lodge. Call 775-266-3888.

CAPLES LAKE; last week the rain scared us away, now with 2 to 5 feet of snow on the lake. I may be waiting for a week or so to venture up.

RED LAKE; Here again the lake had a lot of rain last week which made the ice turn to slush. With our recent snow storms. The lake has received 2 to 5 feet of snow on top of the ice.

INDIAN CREEK RESERVOIR; The lake has mostly thawed as of last week. But the rain we had this week, has made the road to muddy and dangerous to venture in on. I would give the road a few more days before venturing up one.

I hope your fishing adventures are great. If you have a photo of your catch, send it to dprice@recordcourier.com. If you have a question or a report in our local fishing area, call the Naw line at 775-267-9722. Leave a message and I will get back to you. Be safe, good fishin' and tight lines.
Good luck on your next fishing adventure. If you have a question or a report in our local fishing area, call the Naw line at 775-267-9722. If you have a photo of your catch, send it to nevada@fishreports.com. Hope to see you on the waters. Good fishin' and tight lines.
Next Report >
Next Report >
More Reports
Carson Now Reports
for Tuesday, January 10th, 2017

Topaz Lake
:
Topaz Lake Fishing Report
Caples Lake
:
Caples Lake Fishing Report
Red Lake
:
Red Lake Fishing Report
Indian Creek Reservoir
:
Indian Creek Reservoir Fishing Report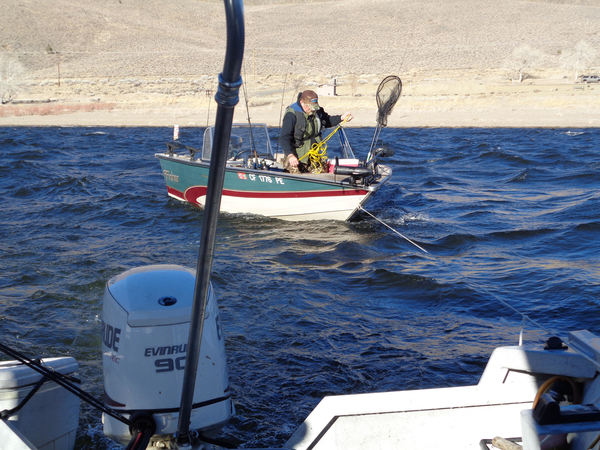 1-2-2017
We had a successful day, I fished with my friend Tom Blotter from Minden. We caught 19 fish with a......
Read More
Nevada.FishReports.com © 2019. All Rights Reserved.
Website Hosting and Design provided by TECK.net