Nevada Fish Report
Fish Report for 7-20-2017
Eastern Sierra Weekly Report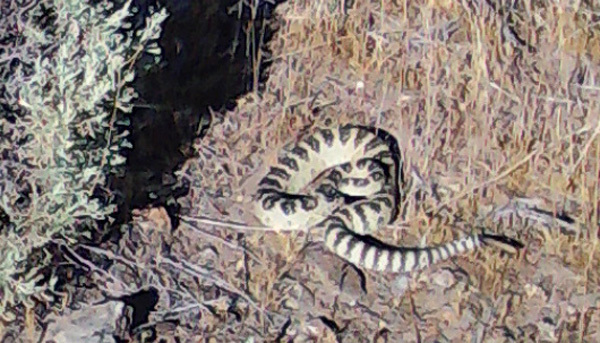 Hello fellow anglers, Weather is hot and the skies are like a stormy winters night with all the smoke in the area. As we venture out, there are a couple things to remember. You are only allowed to have an open campfire in designated campground. Many places in our area, IE Indian Creek reservoir (outside of the designated campground) do not allow charcoal grills .If you are found using a charcoal bbq or have an illegal campfire outside of a designated camp area, you may be cited.
Another big warning as you venture out to fish or just for little walk. The rattle snakes are out in full force this time of year. They have been seen in the Carson Valley foothills. Last week fellow angler and friend Tom Blotter from Minden NV, was taking a walk above Stephanie Way. As he came to a small clearing, he spotted some thing lying in the middle of the path. It was a four foot diamond back rattle snake. Luckily that day he did not have his dogs with him. Many think that rattle snakes are only in the valley areas. I am here to tell you, They are in the Indian Creek area and as far up as through the Alpine County area to the top of Ebbetts Pass. If you want to read about a deadly adventure with a rattle snake, do a google search for "fishing writer survives bite from deadly snake". Be safe on your next outing. You have heard the saying,"always carry a big stick". That stick is used for waving back and fourth in front of you while you walk. If a rattler is in the area you will be warned majority of the time before you get to close. If you happen up on a snake, just back off and go the other way. Now lets check out our local fishing report.
Caples Lake: The lake level is up and the fishing has been slow. Renee and I trolled a couple weeks ago for 4.5 hours with not a single hit. We used Rapalas to needlefish lures, I jigged a kastmaster while Renee tried powerbait. I saw a few anglers fishing at Woods creek and saw no action. We spoke to many boaters as they passed by, not a one had any success. A few anglers have reported in fishing from the shore by the dam. They were using salmon eggs or inflated night crawlers and caught a couple small rainbows. For more information stop by the Caples Lake Resort.
Red Lake: The lake has started to turn that summer green color. Few report of small rainbows with salmon eggs from shore.
Woods Lake: The road opened last week. The CDFW is scheduled to plant the lake this month with catchable rainbow trout.
Blue Lakes: The road has opened up to the lower and upper lake. The CDFW is scheduled to plant the lake with catchable rainbow trout.
West Carson River California Side: The river is running smooth and clear. Anglers have been drifting salmon eggs with a split shot from the Blue lakes road all through the Hope Valley area. The CDFW is scheduled to plant this month with catcgable rainbow trout. Anglers have also had success with small silver spinners.
East Fork Carson River California Side: The river is extremely fishable. For those that have not ventured up this year. You may have to relearn how to fish the river all over. The river has changed its course from last year. The CDFW is scheduled to plant the river with catchable rainbow trout.
Mosquito Lakes Upper And Lower: Located over top of highway 4 on Ebbetts pass. The lake is scheduled to be planted by CDFW this month with catchable rainbow trout.
Wolf Creek, Silver Hill, Loope Canyon: The road is closed indefinitely due to damage from the last winter.
Highland Lakes: The road is only open to the cow camp as of this week. Which is approximately 4 miles in.
Burnside Lake: No fishing reports have come in. The road is open, but advise trucks or 4 wheel drive. The winter has damaged parts of the road in.
Indian Creek Reservoir: The water level is still up. The weeds are growing good. The lake has been planted twice this year from the Alpine County Chamber Of Commerce. The CDFW has planted the lake with catchable rainbows. The lake was also stocked with Lohontancutthroat from Heenan Lake this year. The lake has a lot of fish, but due to the weed population. You have to do some creative fishing. If you are using powerbait, my suggestion would be to use a very long leader to get your bait higher above the weeds. The wtare temperature as of a few weeks ago was 765 degrees. I would recommend the early morning or evening bite.
Topaz Lake: I talked with fellow angler and long time friend Dan Maldonado. He fished a couple weeks ago with his wife and had good success on the California side with various colors of powerbait. Dan told me the rainbows were 14 to 19 inches and very clean and healthy. If you decide to do some trolling, I would get out early and be off the lake by noon or sooner. This due to the amount of water and jet skiers.
Good luck on your next fishing adventure. If you get a picture of your catch, send it to dprice@recordcourier.com. Have question or a report in our local area, call the Naw line at 775-267-9722. Good fishin' and tight lines.
Good luck on your next fishing adventure. If you have a question or a report in our local fishing area, call the Naw line at 775-267-9722. If you have a photo of your catch, send it to nevada@fishreports.com. Hope to see you on the waters. Good fishin' and tight lines.
Next Report >
Next Report >
More Reports
Carson Now Reports
for Thursday, July 20th, 2017

Caples Lake
:
Caples Lake Fish Report
Red Lake
:
Red Lake Fish Report
Woods Lake
:
Woods Lake Fish Report
Blue Lake
:
Blue Lakes Fish Report
Carson River - West Fork (CA)
:
West Carson River California Side Fish Report
Carson River - East Fork (CA)
:
East Fork Carson River California Side
Mosquito Lakes
:
Mosquito Lakes Upper And Lower Fish Report
Wolf Creek Reservoir
:
Wolf Creek, Silver Hill, Loope Canyon Fish Report
Highland Lakes
:
Highland Lakes Fish Report
Burnside Lake
:
Burnside Lake Fish Report
Indian Creek Reservoir
:
Indian Creek Reservoir Fish Report
Topaz Lake
:
Topaz Lake Fish Report
Nevada.FishReports.com © 2019. All Rights Reserved.
Website Hosting and Design provided by TECK.net