Nevada Fish Report
Fish Report for 7-28-2016
Doug Busey Fishing Report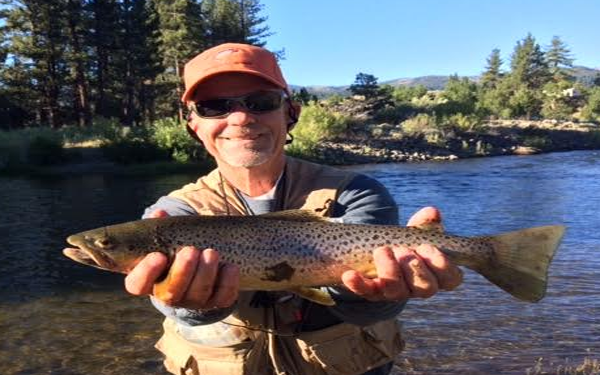 Rock Walling fishing on the East Carson River Brown Trout
Photo Credit: Carson Now
Hello fellow anglers, Its just hot hot hot. Even the fish are saying its too hot to bite. This report will be a short one due to a fishing experience I had last week. Renee and I decided to go up highway 4 to camp along the river and fish. We found our spot after looking for an hour or so. That was due to the amount of other people with the same idea in mind. Some were fishing, but most were rafting and playing in the water to cool off. I ventured deep off the beaten path through a few streams and to a hole I wanted to fish. It was a little treacherous getting in and down through the rocks, but I made it and was in heaven with plenty of fish to catch. Between the trees and the bushes I had about two feet on both sides of me to maneuver my angling skills. I had caught a couple small trout when I heard a crash in the bush behind me. Thinking I was in bear country, I quickly got in a defense mode. Not paying attention to the ground underneath me, I swirled around only to lose my footing and my balance, finding myself going into a face-plant directly onto the rocks. I extended my hands to brace myself. When I landed I realized that my middle finger had taken the brunt of the fall. That, my fellow anglers, is why I am typing this week with only two fingers and will cover the main areas in our local area. If you are wondering what the crash was; it was a man and his son trying to find the same hole the hard way. I think they saw how the terrain was and turned around without saying a word. Funny thing is, I will go back and fish it again, with a different pair of waders.

LAKE TAHOE: Fishing has been very good for anglers that get on the water before the sun rises. As soon as the sun touches the water the fishing slows down. Mackinaws have been coming in on the north end of the lake just east of Tahoe City. Start on the drop offs in 110 feet of water and move out as the sun starts to rise. Flashers and a minnow right on the bottom has been the most productive. Some kokanee have been showing up around the Camp Richardson area. They have been in located in 160 to 200 feet of water suspended down about 60 to 80 feet. Reminder that the Cave Rock boat ramp will close on August 1st for one to two months.

CAPLES LAKE: The water level has been going down a little each day. Both the EID and the Caples boat launches are open. Fishing has been fair for rainbows in the 12 to 14 inch range. The temperatures are much cooler at 7000 foot elevation. The California Department of Fish and Wildlife has planted the lake recently with catchable rainbow trout. This will get the mackinaw more active in the early morning. I fished with friend a couple weeks ago and caught a 2 lb mackinaw deep lining with a #5 Rapala. Most anglers have using medium flashers with a half a night crawler. The bite has been on and off the last week or so.

BLUE LAKES: The lake is getting low and the fishing has been rated at slow. The CDFW planted the lake a couple weeks ago. I have not received any positive reports recently.

CARSON RIVER WEST FORK CALIFORNIA SIDE: The flow are perfect in the Woodfords canyon area. Fishing has been good for those that do not mind a little hike. Drifting salmon eggs into the lower holes have been most productive. Alpine county planted the river last week with 800 pounds of 12" to 4 pound trout. The CDFW planted the rivers last week as well. I would recommend starting at the east side of Hope valley and work back across the meadow. Word to the wise, do not cast a shadow on the water or your luck in that hole will be done.

EAST FORK CARSON RIVER CALIFORNIA SIDE: Planted by Alpine County last week with 900 pounds of 12" to 4 pound trout. I would recommend fishing the weekdays if you can. Weekends have been extremely crowded. I would like to wish a happy 60th birthday to fellow angler Rocky Walling. Rocky caught a nice brown trout while fishing the river last weekend. A special gift for Rocky, as well as a gift he gave back after releasing it. Most anglers have been using powerbait in the deeper holes, I used a small silver spinner in the faster moving waters last weekend and caught and released a few. Gary Cronheart was fly fishing last week with a hares ear and had good success.

INDIAN CREEK RESERVOIR: The lake level is going down a little and the algae has taken over the majority of the lake. I fished last week and caught one 13 inch rainbow on rainbow Powerbait. I casted a few Thomas buoyant, but gave up after cleaning to many weeds off my lures.. Make sure you have polarized glasses so you can see the weed beds. There is two main beds, if you can cast over the second one you will have better success. But if you can not reach, then cast just inside of the farthest weed bed. You will need to adjust your leader from 2-4 feet from your weight. You want to get you bait floating above the bottom weeds.

I would also like to find the angler that lost a fishing pole at the Indian Creek fishing derby. I have it in safe keeping, call me and identify it, i will get it back to you. Good fishin' and tight lines.
Good luck on your next fishing adventure. If you have a question. a report in our local fishing area or have a photo of your catch, send it to

[email protected]

. Hope to see you on the waters. Good fishin' and tight lines.
www.NevadaFishReports.com © 2022. All Rights Reserved.
Website Hosting and Design provided by TECK.net