Nevada Fish Report
Fish Report for 7-30-2016
Lower Rogue Bay Producing Chinook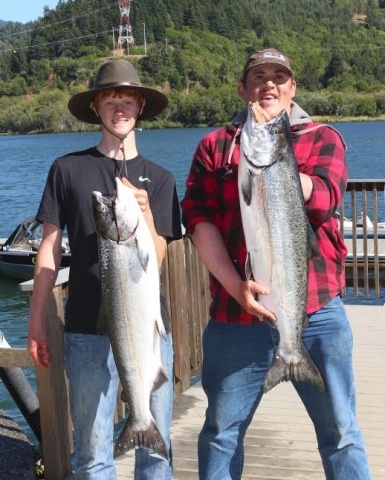 Alex Carpenter (left) took Steve Willhite fishing in the lower Rogue Bay last week and caught three large Chinook. The Gold Beach residents were trolling spinnerbait/anchovy setups.
Fishing for rockfish and lingcod out of the Port of Brookings Harbor continues to be excellent, especially for those who get up early and catch the first several hours of daylight before the winds kick up.
But the excitement last week was focused on the Rogue Bay, where a few lucky anglers have caught between one and two Chinook. If you didn't hook into a fish yourself, you certainly saw a few boats hooking up big time with Chinook ranging between 15 and 27 pounds.
The fishing should continue to remain fair-to-good and possibly even improve for the next 7 to 10 days. Why do I say "7 to 10 days" precisely? It all has to do with the amount of water being released out of Lost Creek Dam by the Army Corps of Engineers.
But first, an explanation regarding why the Rogue Bay fishery is so good would be in order.
The Army Corps of Engineers has been keeping the outflows out of the dam around 1,600 cfs, what is considered to be a low flow for the Rogue. With no water being released out of the bottom of the dam, and hot weather predicted to increase in the Rogue Valley, that has caused the Rogue River to warm up significantly, especially in the water in the upper tidewater holes such as Claybanks and John's Hole.
A Chinook's water temperature comfort zone is between 51 and 53 degrees, whether that water temperature is in the ocean or in the river, and they will do whatever is necessary to remain in this comfort zone.
When Chinook first enter the Rogue Bay, they might mull around the bay for a day or two. They then decide to push their way upstream on an incoming tide where they will take up residence in the first upper tidewater holes. Tolerable water temperatures from the ocean and the estuary flow into the upper tidewater holes on the incoming tide as well.
But after the tide starts to recede, or ebb, intolerable warm river water that is further upriver gets sucked back into these holes, where the water temperature now ranges between 75 and 80 degrees - bathwater to those anglers who are wading these upper tidewater holes - and anathema to any Chinook that decide to remain.
When Chinook hit this impenetrable wall of uncomfortably-warm water, they don't dig that so much, so back to the estuary they go. That's why you will often see a lot of Chinook porpoising and splashing their way downriver on the outgoing tide. Sometimes they will even go back to the ocean.
On the next incoming tide however, these same fish will make another push back into the upper tidewater holes once again. In addition, more fresh chromers will be passing through the jaws of the Rogue River daily. As this daily cycle continues, more salmon start stacking up in the Rogue Bay like hotcakes, and hence, the possibility of even better fishing in the Rogue Bay could be occurring next week.
At the moment, the Army Corps of Engineers is not scheduling any increased releases out of Lost Creek Dam. In fact, they will be decreasing the flows slightly every hour for the next 7 to 10 days.
With these decreased flows and a heat wave of about 102 degrees in the Rogue Valley, the Rogue River water temperatures most likely will be likely increasing. With increased river temperatures, even more fish should be kegging up in the Rogue Bay as previously described, possibly creating an even better-fishing scenario.
"Right now we're discharging about 1,600 cfs (from the dam), which is right on target here," said David Hays from the Rogue River Project at the Army Corps of Engineers on Thursday. "Around August 10 or 11, they're going to bump things up to about 2,100 cfs."
From the present 1,600 cfs release out of Lost Creek Dam, that should increase the flows by approximately 500 cfs, which may or may not affect the fall Chinook fishing, especially if the heat wave in the Rogue Valley persists.
In the meantime, the next 10 days should theoretically produce some of the best fishing of the season in the Rogue Bay.
So keep your hooks sharp and your freezers filled with packages of frozen anchovies.
Tight lines!
Larry Ellis, author, writer, columnist and photographer has had a 50-year passion for fishing in California and Oregon's saltwater and freshwater venues. He is a well-known writer for Oregon, Washington and California Fishing and Hunting News, Northwest Sportsman, California Sportsman and Pacific Coast Sportfishing. He currently writes monthly for Salmon Trout Steelheader Magazine, and is the author of two books, "Plug Fishing for Salmon" and "Buoy 10, the World's Largest Salmon Run."  Both books can be bought from Amato Publications (amatobooks.com), Amazon and eBay. Ellis particularly loves living in his hometown of Brookings, Oregon - The heart of salmon country and gateway to fishing paradise.
More Reports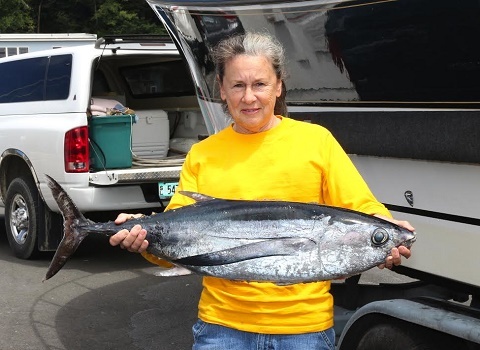 7-23-2016
I have always said that Brookings is the most strategically-located fishing city on the Oregon coastline. Allow me to explain......
Read More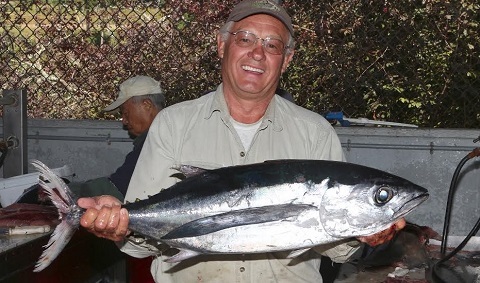 6-15-2016
This fishing columnist rarely uses the phrases wide-open or red-hot in one sentence to describe any kind of fishing action.......
Read More
www.NevadaFishReports.com © 2023. All Rights Reserved.
Website Hosting and Design provided by TECK.net