Nevada Fish Report
Fish Report for 11-9-2016
Carson Now Fishing Report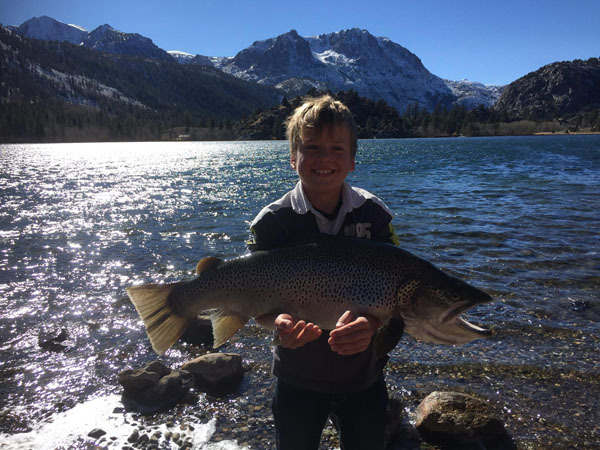 Check out this 20 pounder Brown Trout caught at June Lake on November 2, 2016.
Photo Credit: Courtesy of Ricks Sport Center
Hello fellow anglers, We only have a few days left to fish many of our local waters. On November 15th the California fishing season will come to an end for the majority of the rivers and streams, as well as the lakes in Inyo and Mono Counties. Check your regulations as some of the California rivers will convert to catch and release with special gear restrictions. Such as artificial lures or fly's only with barbless hooks. On the other hand, rivers in Nevada are open to fishing all year long as with the lakes in Alpine County CA. Some of our local lakes have seasonal road closures to insure safety. As of this week all roads in Alpine County are open without restrictions, but that can change on a days notice with our weather ever changing this time of year. Always let someone know where you are going and when you will return when venturing in our back country this time of year. Never go around gated roads and obey all warning signs, they are put there to insure your safety.

LAKE TAHOE; Fishing for mackinaw has been rated as very good. As the weather gets colder the mackinaw seem to get bigger. I have caught my largest mackinaw at 39 inches in early December. Favorite areas have been north of Emerald Bay in 30 to 120 feet of water, trolling Rapalas in a black and silver pattern. Cave Rock to the Logan Shoals area will start to pick up for top linning for rainbows and browns with a black and silver or Brown pattern Rapala. The Tahoe City shelf to Carnelian Bay has been productive for anglers using flasher blades and a live minnow or a Banjo Minnow. If you can graph a good school of fish in the area, try drifting a live minnow right on the bottom. I use a 1/2 to 3/4 ounce weight with a 24 inch leader and a gold circle hook, or some anglers could better recognize it as a large salmon egg hook. As many may know, the Cave Rock boat ramp is open once again for launching. For more information call Blue Ribbon Fishing Charters at 530-544-6552. I would recommend to book your party now before they get filled up for the winter season.

UPPER TRUCKEE, TAYLOR CREEK, TROUT CREEK; Closed for the season until July 1, 2017.

CAPLES LAKE; The resort is closed for the season. If you call up there you will get an old message stating they are open, they are not. Both of the boat ramps are closed for the season. A few anglers have reported in catching some nice rainbows from shore off the dam. They were using inflated night crawlers. I have a special request this year. I am asking for anglers to call the Naw line with up to date ice fishing reports when the season is upon us. I have been using three local anglers that live in the area for up to date reports over the past few years, this year we have lost one to cancer and the other two have moved out of the area. I want to make sure you have the latest up dates on ice conditions.

SILVER LAKE; Fishing has been slow, but should pick up with cooler temps. The boat ramp is open, I would recommend use caution as all camp grounds and resorts in the area are closed for the season. Kastmasters or #2 needle fish are good this time of year. Shore fishing with night crawlers can also be rewarding.

RED LAKE; The lake algae has been clearing up and fishing has been slow. I will be waiting for ice fishing around Christmas time. providing we get some much colder temperatures.

WEST CARSON RIVER CALIFORNIA SIDE; Water levels have lowered over the last couple weeks and fishing has been rated very slow. A few anglers have been catching some rainbows 10 to 13 inches with salmon eggs or Powerbait. For more information stop by the Creekside Lodge.

EAST CARSON RIVER CALIFORNIA SIDE; The Alpine Fish and Game funded by the Alpine Chamber of Commerce has put in the last fish plant of the season. Fishing has been very good up higher on the river past the Carson River Resort. try two salmon eggs with out any weight in the calmer moving waters. Get to the deeper faster waters and use a small pinch weight with a dollop of salmon peach Powerbait. A small 1/8 ounce Panther Martin or Roostertails have still been productive. For more information stop by Todd's Bait and Tackle.

INDIAN CREEK RESERVOIR; The weeds are clearing up as the weather cools. The water level is down a little. This will allow anglers to drive around the first cove to fish by the dam. Fishing has been rated as fair. My last trip to the lake was windy one, as usual. I saw one angler catch a nice 1.5 pound rainbow using green Powerbait. A special note to anglers. On the last weekend of the month, the lake will be planted by Alpine County fish and game, funded by the Alpine Chamber of Commerce and The South Tahoe Public Utility District. The campground and boat ramp has closed for the season. The unimproved launch ramp is open.

PYRAMID LAKE; The fishing continues to be good. I have reports of up to 11 pound cutthroat trout have been caught in the Hells Kitchen area. Many anglers have had good success from Windless Bay to the nets area that have been fishing in 20 to 50 feet of water. They have been using number 1 or number 2 Torpedo spoons. I have tell you about a new tool that I have been using. I hung up my down riggers last year to go back to lead core line. I found a new line that is not like any I have used before. It is made by TUFF-LINE and is called Microlead. It is 18 pound test and is 3 times stronger than any other I have used. It has a special Spectra fiber braid on it which makes it 30% smaller in diameter. Which the cool thing about it is, on a Garcia 5500 series reel I can put 7 colors on it and still have plenty of leader room. The only drawback is that you can not use the standard Willis knot when tying to your leader. I recommend a the double uni knot. This line is smooth as using mono filament line and to me has less line drag. It is you and the fish, and strikes are easier to detect. I have used this on Topaz Lake, Caples as well as Pyramid lake. Remember to keep on eye on the north/east end of the lake while in a boat. When you can't see the shore, it may be time to head for shore. The wind can come up quickly and become dangerous.

Good luck on your next fishing adventure. If you have picture of your catch send it to dprice@recordcourier.com. If you have fishing report call the Naw line at 775-267-9722.

Hope to see you on the waters, Good fishin' and tight lines.
Good luck on your next fishing adventure. If you have a question or a report in our local fishing area, call the Naw line at 775-267-9722. If you have a photo of your catch, send it to nevada@fishreports.com. Hope to see you on the waters. Good fishin' and tight lines.
Next Report >
Next Report >
More Reports
Carson Now Reports
for Wednesday, October 26th, 2016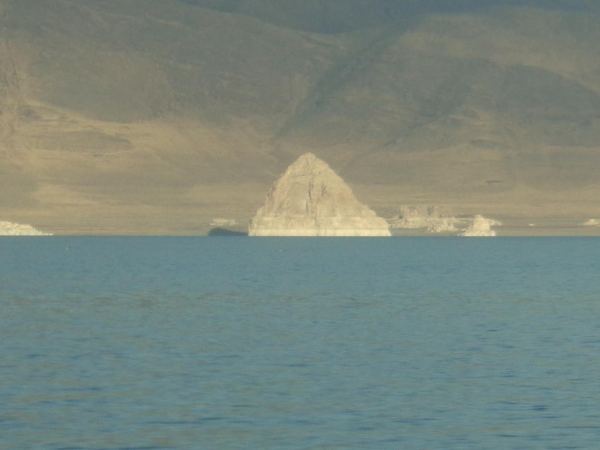 :
Carson Now Fishing Report
Lake Tahoe
:
Lake Tahoe Fishing Report
Silver Lake
:
Silver Lake Fishing Report
Caples Lake
:
Caples Lake Fishing Report
:
Red Lake Fishing Report
Blue Lake
:
Blue Lake Fishing Report
West Carson River (CA)
:
Carson River West Fork (CA) Fishing Report
East Carson River (CA)
:
Carson River East Fork (CA) Fishing Report
Indian Creek Reservoir
:
Indian Creek Reservoir Fishing Report
Topaz Lake
:
Topaz Lake Fishing Report
Pyramid Lake
:
Pyramid Lake Fishing Report
Nevada.FishReports.com © 2020. All Rights Reserved.
Website Hosting and Design provided by TECK.net