Nevada Fish Report
Fish Report for 10-19-2017
Doug Busey Fish Report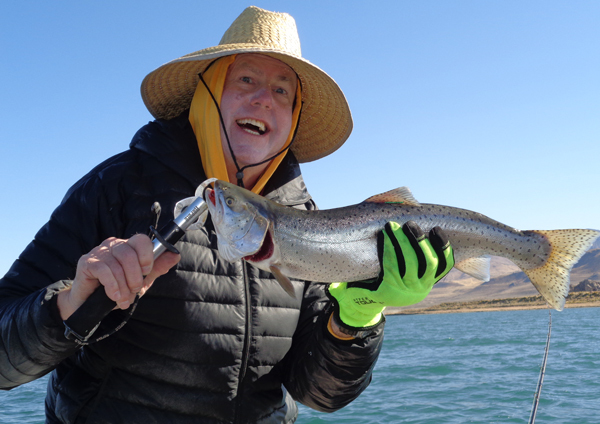 Hello fellow anglers, fall fishing is in the air. This is an awesome time of year to fish Alpine Counties rivers and streams. The waters are running perfect and the colors are spectacular. Plus the fishing is down right fantastic.  Get in as much fishing as you can, because in two weeks on November 5th we turn our clocks back one hour. Also on November 15th, all rivers and streams in Alpine County " with the exception to the East Carson river from Hangmans bridge to the Nevada state line" will close for the season.  The lakes in Alpine County are open to fishing all season with some exceptions with limited access.  Which can close at anytime due to in climate weather conditions. For now here is a look at our local fishing conditions.
Lake Tahoe:  Excellent Fall Tahoe Mackinaw Fishing !  Dodgers and minnows, flashers and minnows, and flatfish- chrome or white,  have been producing limits for several weeks now . Bounce the bottom or work suspended fish under the Kokanee Salmon schools . 100, 150, and 180 feet have been productive in the mornings. Slow troll and vary speed . Cal Neva Point , Dollar Point , and Sugar Pine Point have been producing many limits of fat Mature Lake Trout 2 to 18 pounds .  They are stuffed with Shrimp, crawdads, and Kokanee Salmon .   Captain Gene St. Denis    Blue Ribbon Fishing Charters  (530) 544-6552
Taylor Creek-Upper Truckee River-Trout Creek: Closed to fishing until July 1st 2018
Silver Lake: Fall mackinaw fishing is great if you have a small boat to launch. EID reports the water level is low and the ramp is open, to use with extreme caution. Perch, black/gold or silver/ black Rapala's have been best producers.
Caples Lake: The Caples Lake Resort is schedule to close on the 22nd of this month. The water level is still high and shore fishing has been fair for anglers fishing the dam area. The spillway has been rated as slow spotty fishing. The EID boat ramp will be closing at any time due to time of season and lack of usage.  Late season is a good time to fish for the larger brown trout that move in closer to shore line area. Night crawlers or casting kastmaster have been a producer. Casting Rapala's are also productive.
Woods Lake: Gates are still open for day use, the campground area is closed. If you venture out to see the fall colors. This area is a must for a day hike. The lake was planted with small rainbows a few weeks ago by CDFW.
Burnside Lake: The road is open, but can close at any time. Fishing has been slow from the reports I have received over the last few weeks.
Blue Lakes:  The road is open to the lake. The campgrounds are controlled by PG&E and Alpine County. This time of year they can close at any time due to weather. Fishing has been fair for small rainbows.
Indian Creek Reservoir: The campground area is closed for the season. The only boat launch open is the unimproved ramp by the dam. With the colder weather the weeds are starting to break up, but still not gone yet. The fishing has been on and off. Most anglers have been using powerbait near the dam for 12 to 14 inch rainbows. Word of caution, the dirt road is open but use caution as there are some areas of washout near the edge of the road. The paved road is open off highway 89.
West Fork Carson River California Side: Fishing has been good from Hope Valley down to Woodfords. This time of year is good for those areas away from the normal foot traffic. Take a walk a quarter mile down stream from the bridge areas. You will be surprised what is hiding in those rocks. The river was planted with funds courtesy of the South Tahoe Public Utility District last week.
East Fork Carson River California Side: The river is running perfect and the fishing has been very good. Jacob West and his brother Dave from Carson City NV fished with great success. They caught and released  many fish up to 5.5 lbs while fly fishing on their last trip. Many anglers have been using a split shot and a couple salmon eggs in the deeper faster waters with good success. The river was planted from funds donated by the South Lake Tahoe Public Utility District last week.
Topaz Lake: Closed to fishing until January 1st 2018.
Pyramid Lake: I venture up early last weekend with fishing partner Tom Blotter. We started trolling north from Pelican Point. We picked up a few small fish with Topedo's. We took a long boat ride to south end of the lake and fished the drop offs. I used a #1 green with red dot torpedo, while Tom used a watermelon #2 torpedo spoon. We trolled lead lines with two and a half  to four colors of lead line. Most fish were suspended off the bottom. By end of the trip we had caught and released over 22 cutthroat trout, with almost as many LDR ( long distant release ) a good day of fishing.
June Lake Report: June Lake Marina/Ramp(760-648-7726) and Big Rock Resort/Ramp(760-648-7717) plan on staying open through last weekend of Oct. Along with good bait fishing  June is kick'n out larger Rainbows and Cutthroats for those trolling with spin gear shallower mornings and evenings and lead core 4 to 8 colors anytime. Drag Rapalas early and late closer to shore and deeper with Tas Devils, Needlefish, Kastmasters, etc.
Gull Lake: Gull Lake Marina/Ramp(760-648-7539) open through Nov. 15th depending on weather. Gull has been my favorite for decades to spend a day on a boat(rentals at Marina) and catch a bunch of trout rolling dough and chucking mice tails, pinched crawlers, and inflated night crawlers. What could be better? Lake is still producing full limits and stringers with Rainbows up to 6 lbs.
Silver Lake: Silver Lake Resort/Marina(760-648-7525) is due to close Oct. 16th. Ramp remains open as long as weather permits. Silver put in their last load of Desert Springs big Rainbows last week adding to over two tons of these beauties dropped in over the summer and is still cranking out a steady stream of 2 to 5 pounders. Should continue right through closing and on into opening next season. The Browns are making their a showing making their way down into Rush Creek.
Grant Lake: Marina and ramp are closed for season. Lots of good access remains to shoreline for bait and lure fishing. Best bet now for Rainbows and Browns is upper section(south end) near Rush Creek inlet. Good time to be throwing F-9 and 11 Rapalas. I'm think'n jump in a tube and float this section targeting submerged creek channel.
Rush Creek: Creek is open and fishable thru Nov. 15th. Good Rainbow action continues and as mentioned bigger Browns beginning annual migration from Silver and Grant Lakes. Along with Thomas Buoyants and Panther Martins go with Rapalas as well.
Good luck on your next fishing adventure. If you get a picture of your catch, send it to [email protected] Have question or a report in our local fishing area, call the Naw line at 775-267-9722. Good fishin' and tight lines
Good luck on your next fishing adventure. If you have a question. a report in our local fishing area or have a photo of your catch, send it to

[email protected]

. Hope to see you on the waters. Good fishin' and tight lines.
Carson Now Reports
for Thursday, September 7th, 2017

:
Doug Busey Fish Report
Caples Lake
:
Caples Lake Fish Report
:
Blue Lakes Fish Report
Burnside Lake
:
Burnside Lake Fish Report
West Carson River (CA)
:
Carson River West Fork California Side Fish Report
East Carson River (CA)
:
East Fork Carson River California Side Fish Report
Indian Creek Reservoir
:
Indian Creek Reservoir Fish Report
Silver Creek
:
Silver Creek Fish Report
Topaz Lake
:
Topaz Lake Fish Report
June Lake Loop
:
June Lake Loop Area Fish Report
Rush Creek
:
Rush Creek Fish Report
Silver Lake
:
Silver Lake Fish Report
Gull Lake
:
Gull Lake Fish Report
June Lake
:
June Lake Fish Report
www.NevadaFishReports.com © 2023. All Rights Reserved.
Website Hosting and Design provided by TECK.net