Nevada Fish Report
Eastern Sierra Fishing Report Fish Report for 4-20-2018
Eastern Sierra Opener Preview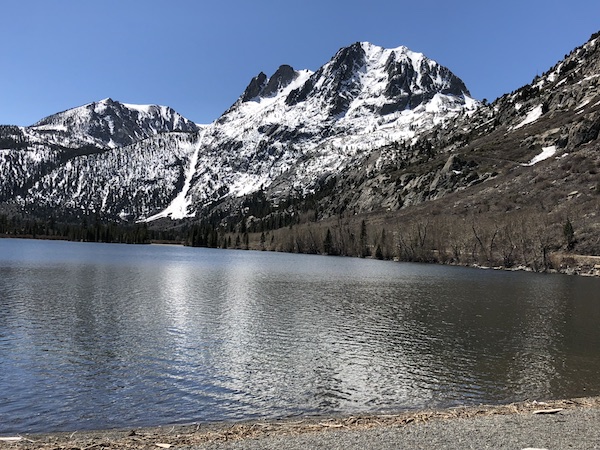 Silver Lake Is Ready. (June Lake Loop)
Photo Credit: Chad Woods
Fish report
Hello fellow anglers, we have a little over a week until the California opening fishing season, which will start on April 28, 2018. As a reminder, check your regulation book for any waters you plan on fishing. Some waters will change limits, bait while some do not open until a later date. For instance, all of the tributaries that run into Lake Tahoe do not open until July 1st. These include the Upper Truckee River, Taylor Creek and Trout Creek. There will be many anglers and campers out and about on the opening weekend, make sure to slow down and give yourself plenty of time to get to your destination. In this report will be the conditions I have as of today and some phone number contacts you can make to be ready for the opening day weekend. 
LAKE TAHOE: The Cave Rock launch is open and clear , that being said You need to watch out for "Ice Build Up " first thing in the morning on the boat ramp from folks not draining the trailer before pulling out all the way . trout fishing has very good to awesome on Lake Tahoe at the north shore , Cal Neva Point , Tahoe City Shelf  , and over by Homewood Bay .  We have been using down riggers with custom chrome and white dodgers  trailing minnows at slow speeds close to the bottom and bouncing it on occasion to create sediment cloud and bite activation . Also 4 inch Flat Fish in white and chrome have provided some large fish . The north shore points are heavily loaded with mature fat lake trout , as we have taken alot of limits of 2 to 15 pound Lake Trout that are stuffed with shrimp and crawdads .Shore anglers and small boats have been occasionally  hooking into shore cruising rainbows and hard fighting German Browns . Small dodgers with minnows or threaded worms can be deadly at times for the boaters . Also smaller stick baits in rainbow or black and silver with new 8 to 10 pound line can get amazing results for patient trollers on the clear waters of Lake Tahoe . Shore fisherman can get away with 6 to 8 pound test, and then they best have a long handled net .  Remember that the Cave Rock Boat Ramp Gate and Lake Forrest Ramp Gate hours of operation are 6 to 4 Daily . For more information call Gene St Denis at Blue Ribbon Fishing Charters  (530) 544-6552 for a memorable experience.
SILVER LAKE: The lake has about 10% of open waters as of last weekend. The ice is very unstable and is highly recommended to stay of. The ramp and parking area still had approx 14 inches of snow on it. The road to the resort still has the gate closed with a snow covering the road.
CAPLES LAKE: The lake has some open waters around the Woods Creek area. Most of the lake still had very unstable ice on it. There was a foot or so of open water around the dam area. The resort will be putting in its docks when the lake thaws out around mid May. For more information call the Caples Lake Resort at 209-258-8888. The campground is closed.
RED LAKE: The lake still had ice on 90% of the lake. But should ice out quickly.
WOODS LAKE:  Access to the lake and camping area is still closed.
BLUE LAKES: The road is open only to the 1st gate. Which means camping is only available in the Hope Valley area.
BURNSIDE LAKE: The road is closed.
CARSON RIVER WEST FORK CALIFORNIA SIDE: In the Hope Valley area the river was running very good through the meadow. As for the Woodfords canyon area, the waters were running very fast and unfishable, but that could change in a week. Alpine County is planning a plant of 2 to 6 lb rainbows next week in time for opening day. For more information stop by the Creekside Lodge.
CARSON RIVER EAST FORK CALIFORNIA SIDE: The river was running very good with a slight green tint. There were no major transformations like there was last year. But with warmer temperature the river will rise. Alpine County is planning a plant of 2 to 6 lb rainbow trout next week for opening day festivities. The road will be open 7.2 miles west of the jct of 89 (Monitor pass). The Carson River Resort will be open with new ownership and a familiar manager at the general store. Todd Sodero is back at the helm. Come see the many changes at the Carson River Resort. If you have a good catch stop by and let them take a picture to be put in to the book of fame and possibly shown here in the next Naw report.
MARKLEEVILLE CREEK: The river was running very good this week. Remember that there are areas of private property along the river and to respect the privacy of the land owners. Alpine County is planning to plant the river with 2 to 6 pound rainbow trout next week.
WOLF CREEK, HIGHLAND LAKES, PLEASANT VALLEY, SCHNEIDER COW CAMP: The roads are closed.
SILVER CREEK: As of this week the river was running good and clear. With the rising temperatures comes melting snow. The waters can rise and change in a day, use caution this time of year when fishing the river. Alpine County is planning to plant the river with 2 to 6 pound rainbow trout next week.
INDIAN CREEK RESERVOIR: The campground and boat ramp will not be open for the opening weekend. It is scheduled to be open on May 4th depending on weather. The water level has come up a little, but the lake is still pretty much weed free. The fishing has been doing well from shore using various colors of Powerbait. It may be salmon peach in the morning and green in the afternoon. Many anglers have reported 2 to 5 fish days over the last week or so. The unimproved boat ramp is available on the dam side of the lake. Be prepared to get wet as the area is very shallow until you get out a ways. Advise; if you drive in on the Diamond Valley side. Stay to the right side of the road, there are still a few drop offs near the left side from all the water runoffs we have had over the year.
TOPAZ LAKE: The Topaz Lodge derby is over and the final results have not come in as yet. The lake level has actually come up. I did not think they could put more water in it. There has been some cloudy water on the south end of the lake, due to the inlet was opened a few times last week. Make sure to watch for floating debris while on the lake. The Douglas County campground is open and will now be taking reservations campsites if desired. You can contact the Douglas County parks Dept for more information. Both California and Nevada licenses are valid on Topaz Lake. The fishing has slowed down a little from last week. I fished with fellow angler Tom Blotter last week. We managed 13 fish to the boat averaging 12 to 15 inches. Best action has been with Raplas of flashers and a half of a night crawler. Shore anglers have been using green Powerbait or inflated night crawlers.
NDOW FISH PLANTS: The following waters will or have been planted over the last week. Baily Pond, Wilson Common Pond, Davis Creek, Martin Slough, Mitch Pond, Liberty Pond, Marilyns Pond, Squaw Creek, Mtn View Pond.
JUNE LAKE AREA: Well, as of last week, the was a  light snow blowing across Gull Lake. However, according to forecasts that's going to change by this weekend with temps into the 60s. Next week through opening weekend looks like mild conditions. Should be a great Opener with all the townsfolk and marinas get'n ready for the season. Most of all they are anticipating the 40th annual "JUNE LAKE LOOP MONSTER TROUT CONTEST" on opening day Sat. April 28th. This contest is open to all those fishing in The Loop with no registration or fees required. Simply catch a "Monster" in one of The Loop waters including June, Gull, Silver, and Grant Lakes or Rush Creek and bring to a weigh station at Ernie's Tackle and Ski Shop in town or at one of the marinas. With 13 categories including kids for prized packages there's plenty of fun for all. The expectations are high for The Opener and early season. All lakes are ice free as of a couple weeks ago. June and Grant Lakes did not ice over this winter which means top water temps are a few degrees above the usual resulting in more active fish for this time of year. Already seeing trout surface feeding during the warmer, calmer periods.Should be lots of holdovers lurking all waters after last season's late plants by the state and additional stocks of "Oregon Rainbows" brought in by Mono Co. and the local marinas. Along with the resident "Wild" trout they have Rainbows, Browns, and Cutthroats all typically caught during the Opener and throughout the season. All types of fishing are available including shore, boat, tubes and kayaks, fly fishing etc., etc. Since Grant and June Lakes are not full to capacity virtually the entire shoreline is accessible. Rush Creek is flowing well and is fully accessible. Lower elevation local hike-in lakes and creeks are reachable. Higher elevations may still be snowbound.The great thing about The Loop is all methods work somewhere all the time. Still fishing with dough baits,crawlers, or eggs. Chucking or trolling lures and jigs. Tossing some flies in Rush Creek or from tubes in the lakes. It's always best to check in at Ernie's or the local marinas listed:
Ernie's Tackle and Ski Shop 760-648-7756, Big Rock Resort at June Lake 760-648-7717, June Lake Marina 760-648-7726, Gull Lake Marina 760-648-7539, Silver Lake Resort 760-648-7525, Grant Lake Marina   No phone service so just stop on by and say Hi.
Good luck on your next fishing adventure. If you have a question. a report in our local fishing area or have a photo of your catch, send it to

[email protected]

. Hope to see you on the waters. Good fishin' and tight lines.
More Reports
Carson Now Reports
for Friday, April 20th, 2018

Silver Lake
:
Silver Lake Fishing Report
Caples Lake
:
Caples Lake Fishing Report
Red Lake
:
Red Lake Report
West Carson River (CA)
:
Carson River West Fork Report
East Carson River (CA)
:
Carson River East Fork Report
Markleeville Creek
:
Markleeville Creek Report
Silver Creek
:
Silver Creek Report
Indian Creek Reservoir
:
Indian Creek Reservoir Fishing Report
Topaz Lake
:
Topaz Lake Fishing Report
June Lake
:
June Lake Area Fishing Report

4-20-2018
The Cave Rock launch is open and clear, that being said you need to watch out for "Ice Build Up......
Read More
www.NevadaFishReports.com © 2023. All Rights Reserved.
Website Hosting and Design provided by TECK.net