Nevada Fish Report
Lake Sabrina Fish Report for 8-15-2018
Free Fish Friday 9/1/18
Lake Sabrina - Bishop, CA (Inyo County)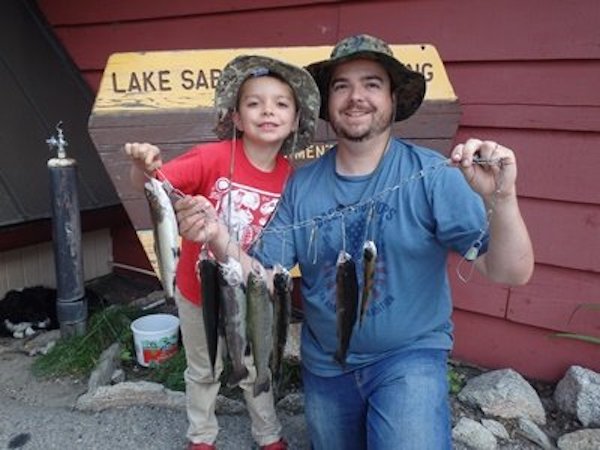 by Rick, Patti, Juanita and Jerrod
8-15-2018
Website

FREE FISHING DAY – SATURDAY, SEPTEMBER 1, 2018
 
We're still getting a bit of smoke in from the fires – it all depends on which way the wind is blowing and which fire it might be coming from. And we're still getting a few clouds in in the afternoon, but that should be winding down a bit by Thursday. There were lots of families at the Lake over the weekend for the last hoorah before school gets started so if your kids are long gone now's the time to come to the Lake.
 
The catching side of fishing is still on the slow slide – probably due to the warm temps and the fish being down a bit deeper. The Inlets are still your best bet (as there's cool water coming in and it's bringing in food. NightCrawlers is what's on the fish's menu along with Salmon Eggs. The lure of choice is still the Red and Gold Thomas Buoyant.
 
Ed Browne and his group caught a lot of fish including the one pictured on NightCrawlers. Adrian & Troy Lopez along with Joe and Rex Porras made memories and caught dinner Thomas Buoyants – what an awesome combination! More memories were made with Evan "THE NET MAN" (and it was his birthday) and Frank Root – according to Evan, they caught their fish for dinner on a Fishing Pole and Worm!  And even more memories with the Blackford Family – Brittney, Gary and Aylee joined together to catch their dinner – also on NightCrawlers.
 
Fishing etiquette is once again becoming a bit of a problem at the Lake and we don't like problems. If you come upon someone fishing, please don't fish right next to them – take a bit of hike farther down and don't cast over into their spot. Same at the Inlet, there are so many areas to fish on this Lake go find another 'soon to be' favorite spot.
 
People, sure would be nice if y'all would pick up your trash when you leave. It's really not that hard. Just sayin! If you need something to put it in, come into the store and we'll give you a bag.
 
Temps start Tuesday in the low 70s for the highs thru Thursday – mid 70s on Friday – and in the upper 70s for the weekend. The lows are expected to be in the low 50s in the lows. Looks like the ThunderBoomers are out of the forecast starting Thursday.  You can check out the forecast for the week at www.weather.gov (enter Aspendell, CA in the search and scroll down to see the temps).
 
And the hiking conditions:
All looks good – ThunderBoomer thru Thursday!  The skeeter population seems to be in danger of going extinct for the season!!!
 
If you're hiking stay safe out there. Remember to leave a note about your destination and approximate return time and a clothing description. And please hike with a buddy!
 
Things to do when you're not at the Lake:
 
Eastern Sierra Tri-County Fair
Exhibits, displays, rodeo, carnival, destruction derby and thousands of homemade & homegrown items on display. Call 760-873-3588 for more information.
Fair Hours:
Thursday, August 30th       4:00-11:00 p.m.
Friday, August 31st              4:00-11:00 p.m.
Saturday, September 1st   Noon - Midnight
Sunday, September 2nd     Noon - Midnight
Click here for more information.
 
All Aboard!
A visit to Laws Railroad Museum and Historical Village is always a treat, but come on a day the train is running and it'll be extra special!  
https://www.lawsmuseum.org
 
Important stuff that just stays in the report for a bit:
 
PRIVATE BOATER:  Please don't overload your boats – it causes us great distress!!! USE YOUR NOGGIN!
 
Spoke to the local Department of Fish and WildLife Game Warden regarding fisherpeople needing to have their own stringers and up to five fish per stringer. His response is – "It is highly recommended, but not required, but everyone better be present if I'm checking".
 
If you catch a big fish or a limit just to have your picture taken for the webpage and then try and give your fish away – we won't post your picture, but then again we may post it as 'WASTER OF A PERFECTLY GOOD FISH TO EAT'! Crimp down your barbs, take a picture on the boat and release it for another day.
 
When using the bug juice or hand sanitizer or sunscreen or lotion or cologne or perfume, try not to get it on your hands – you'll transfer it to your bait and the fish just don't like any of that foo-foo stuff. Wash your hands in the stream or Lake to get it off, and then use some fish attractant on your hands.
 
Make sure you wear some kind of sun protection – the sun and reflection off the water will do a number on your skin and eyeballs
More Reports
Nevada Department of Wildlife Reports
for Monday, August 13th, 2018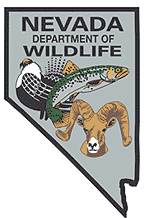 Lake Mead
:
Between Storms, Fishing has Been Good!
Lake Mohave
:
22-Pound Cat
Colorado River - Laughlin
:
The Striper Bite is Steady!
Las Vegas Urban Ponds
:
Great Time of Year to Catch Bluegill, Green Sunfish.
Kirch Wildlife Management Area
:
Kirch Wildlife Managment Area Report
Eagle Valley Reservoir
:
The Best Action has been Provided by Bass!
Echo Canyon Reservoir
:
The Bass Action has been Exceptional!
www.NevadaFishReports.com © 2023. All Rights Reserved.
Website Hosting and Design provided by TECK.net