Nevada Fish Report
Fish Report for 7-17-2020
NDOW Eastern Fishing Report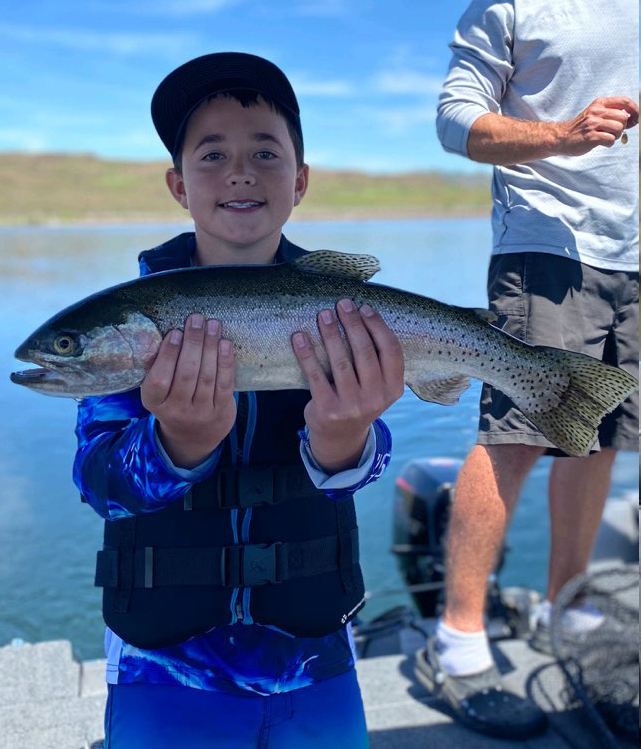 Fishing at Wildhorse Reservoir. 11-year-old Chase Lutz with a rainbow trout.
Photo Credit: Courtesy of NDOW
by Nevada Department of Wildlife
7-17-2020
Website

While fishing Wildhorse last Sunday, I landed a very nice 21-inch trout that looked to be in good shape.  But it took several minutes of pushing it back and forth in the water, running water through the gills, before it was able to swim away and head to deeper water.
We looked at the water temperature on the fish finder to find that the surface temperature was about 70°, well above the preferred temperature that trout prefer.  We had started the morning fishing with a 66° surface temperature, but that had been almost four hours earlier.
With afternoon surface water temperatures getting into the 70's at area reservoirs releasing trout becomes problematic.  When fighting the fish in a reservoir they end up in the warmer, less oxygenated surface waters.   The stress from the exertion of fighting the line, combined with the stress due to lack of oxygen and the heat, doesn't allow them to recover and many of those fish die even if released. 
Please limit your catch and release fishing to the cooler parts of the day (early morning) and land the fish quickly if you are going to release it.
If you catch a fish during the heat of the day, either use heavy enough tackle to get it into the boat quickly, so it can be released quickly or keep the fish.  The chances that a fish will survive during this period is very low. 
The best time to fish if you are a catch and release angler is early in the morning.  If after trying to revive a fish before releasing and it doesn't aggressively swim from your hand, you should probably keep it.
The lake is ice free and fishing has been fair for carry over fish but should pick up as the surface water temperatures start to warm up. There is still some snow on the trails around the lake though it is disappearing quickly. The lake is full to capacity.  Fishing the outflowing creek can be productive for brook trout. Worms or PowerBait fished just off the bottom should work.  Flies to try include beetles, ants, black Adams, Griffith's gnats, yellow or red humpies, yellow or red stimulators and small crystal buggers.  The lake was stocked with 3400 trout July 10 and about 2000 tiger trout this week. 
Fishing for nine to 12-inch fish has been fair to good at Cave Lake.  Most anglers are having luck with small worms, though PowerBait is also catching fish.  Fly rodders should be using small olive or black bead head crystal buggers, small olive wooly worms, hares ears and prince nymphs.  On warmer afternoons if a hatch is seen, small Adams, black ants, Griffith's gnats, renegades and red or yellow humpies should all work. The lake has been stocked with approximately 8,000 fish between 10 and 11 inches this spring.
Fishing here is fair to good for 10 to 12-inch trout and fair for bass. The usual worms, PowerBait, small spinners and flies should all work.  
Comins Lake continues to fish well for trout with surface water temperatures in the low 70's though shore anglers will see a slow down as the trout move into deeper water.  Bass fishing is fa picking up.  Anglers are catching trout averaging16 to 20 inches on a variety of tackle.  Panther Martins, spoons, PowerBait, salmon eggs, and night crawlers should all do well for the majority of bait fisherman.  Fly fisherman should use wooly buggers, leech patterns, and nymphs patterns (midges, beaded pheasant tails…etc.).  Comins was stocked this spring with approximately 10,000 rainbow trout averaging just over 8-inches.  
The reservoir is full and fishing has been good.  The usual flies of wooly buggers, prince nymphs, hares ears and chironomid patterns should all work.  When hatches are seen fly rodders should try BWO's, PMD's, Adams, renegades, damselfly dries and terrestrials. Small spinners, PowerBait and worms should be effective as well. Illipah was stocked with 7500 trout this spring.
Very little change here as fishing continues to be fair to good. Both bass and trout fishing are fair to good. The usual PowerBait and worms as well as small spinners are working for trout.  Fly rodders should be using chironomids, hares ears, PT nymphs, copper Johns, and black or olive wooly buggers.  For bass dark soft plastic baits with sparkles are working as are minnow type imitations.  The lake is full and with the warmer weather weeds are growing and shore fishing is getting more difficult. Anglers may want to consider bringing a float tube or cartopper boat.
Bass fishing has been fair to good, while trout fishing is fair. A few bluegill are being caught.  Best tactic for fly fishermen seems to be using a sink tip or intermediate sink line with a brown or black leech pattern and fishing the deeper water.  The same presentations as at South Fork should work well here.  Bait anglers are doing best with worms about six feet under a bobber or a floating cheese bait used with a slip sinker floated off of the bottom.
MOUNTAIN STREAMS
With the recent warm spell, a lot of snow has come off the mountains and flows are subsiding though flows on most streams are still well above normal for this time of year.  Expect above normal flows for much of the summer.   The water is clearing in most streams and fishing is picking up.  The upper third of Lamoille Creek by the beaver ponds has fishable flows and was stocked with approximately 2,000 tiger trout on July 11.  While the flows are high, fishing below both Wildhorse and South Fork dams has been good for reservoir sized fish.  Fishing above South Fork in the state park is fair to good for trout.  Wading is difficult but fishing the eddies and slack water along the edges is productive.  Cleve Creek was stocked with approximately 1,000 rainbow trout averaging almost 10 inches in size this week.  As of July 18, the Bruneau River continues to drop and flows at a fishable 53 cubic feet/second (cfs), the Jarbidge is 47 cfs and is fishing well, Salmon Falls Creek at 118 cfs, Lamoille Creek down to a roaring 261 cfs below Thomas Creek Campground, South Fork of the Humboldt  down to 298 cfs, Cleve at 9 cfs  and Steptoe Creek at 14 cfs.
HIGH ALPINE LAKES
Most of the high mountain lakes have open water and access is greatly improved.   Island, Lamoille, Smith, Overland, Liberty, Hidden and Robinson Lakes are all fishable and most do have hiking access, though there will be spots where you may have to cross some snow.
Bass fishing in the south marsh has been good for numbers with anglers regularly catching 20 to 30 fish for a morning or afternoon's worth of effort. There is approximately one keeper bass (10 inches or larger) for about every five fish.  Unit 21 is producing bass from the dikes using olive soft plastic grubs or olive wooly buggers and spinners.  The water temperature here is in the mid to high-60's. Dark four to six-inch soft plastic grubs hooked weedless are the best bet for bass.  Good colors include dark green, brown, purple or blue.  Some anglers like a contrasting colored tail such as chartreuse, yellow or white.  If you are new to the marsh, stay on the main channel where there are marker poles.  However, some of the marker poles have fallen, so if you have a GPS, consider taking it and using the tracker feature so that you can follow your path back to the boat ramp.  Fishing the collection ditch for trout continues to be good though it is starting to slow.  Small dark flies fished dry or just under the surface have worked as have streamers and spinners.  There has been a Mayfly hatch going on so Mayfly nymphs, emergers and dries should work.  These include the usual small nymphs such as PT's, hares ears, olive soft hackles, BWO emergers, red or blue copper Johns and prince nymphs. Wooly and crystal buggers in black, purple or olive are also working. Damselfly dries have also produced fish both in the ditch and the south marsh.
Surface water temperatures are now in the 70's and while the water is relatively clear for this time of year, phytoplankton is growing staining the water and weeds are coming on strong in the shallow water.  With the warmer surface water temperatures, trout are moving into deeper water and the bass fishing has been good. Early morning shore fishing for trout is fair and fishing from a boat is fair to good depending upon the day. Bass fishing around structure has been good.  Bass anglers are having luck with soft plastic baits and using drop shot rigs.  Fishing small PT's, hares ears or chironomids under a strike indicator have produced some fish.  Snail patterns and black leeches with some red flash should also be effective.  Like most of our high desert reservoirs, damselflies are hatching so damselfly nymph and dry patterns should be effective.   The southwest side of the lake has been productive as has Tomera Cove, Hastings Cove and on either side of the dam.  Fishing below the dam in the river has been good though flows are high. One smallmouth or largemouth bass 15 inches or longer may be kept now.  This spring SF was stocked stocked with approximately 55,000 trout.
Surface water temperatures are in the high-60's to low 70's depending upon time of day and where you are on the lake.  Fishing for trout is still fairly good but tactics need to be changed as the fish seek cooler water.  First thing in the morning they can still be caught fairly close to shore, but by about 9:00 am they start heading to deeper cooler water.  Bass and perch fishing is fair to good with perch anglers doing well at the south end of the lake in about 15 feet of water using small plastic grubs on a jighead, small crystal buggers on a full sink line or small pieces of worm on a hook or jighead fished between 10 and 15 feet deep.  Perch were also being caught in coves in the Hendricks Arm.  For fly fishermen changing over to wooly and crystal buggers on a full sink line is a good tactic as the trout head deeper.  With Mayflies hatching anglers will also do well with hares ears and PT nymphs. Damselflies are hatching so damselfly nymph fly patterns should be working.  One smallmouth bass 15 inches or longer may be kept now. The campground and fish cleaning station is open and is on a first come first served basis.  Approximately 8,500 eight inch fish were stocked in Wildhorse last week. 
The reservoir is full!  NDOW and Barrick planted the reservoir with 5,000 five to six-inch catfish and 5,000 15-inch catfish on Friday, May 31. Expect the fishing for catfish to pick up as the water temperature is in the mid to  high 60's. Approximately 1100 crappie from Chimney Creek Reservoir were stocked, but anglers are being asked to return any crappie they catch back to the lake for a couple of years while the fishery rebuilds.  Bass will be stocked sometime in July and more crappie will be planted in the fall.
The lake is no longer spilling and NDOW stocked approximately 28,000 trout in the lake right before the 4th of July. The water is still fairly clear, but algae is growing.  Fishing is good for 13 to 18-inch trout that are in good body condition. The same presentations, flies, baits and lures as used at South Fork, should also work well here. The northeast corner of the lake and the south end of the lake have been producing nice trout where the water is averaging eight feet deep. Shore anglers should do well in the canyon by the dam and on the north shore. Bass fishing is good for eight to 10 inch bass with a few over 10 being caught once in a while.  Soft plastic baits are working.  Best colors seem to be dark olive, brown or purple. On still evenings fishing the edges of the willows with poppers may be worth a try. Fishing below the spillway is slow.
More Reports
Nevada Department of Wildlife Reports
for Friday, July 17th, 2020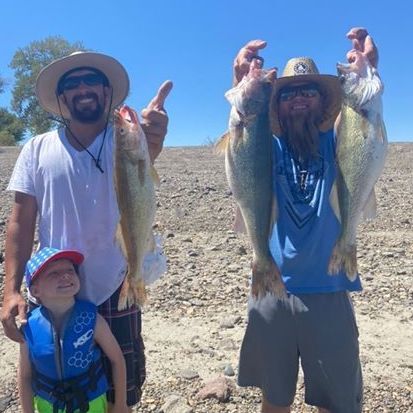 :
Nevada's Moose Population
Lahontan Reservoir
:
NDOW Catch of The Week
www.NevadaFishReports.com © 2023. All Rights Reserved.
Website Hosting and Design provided by TECK.net