Nevada Fish Report
Fish Report for 6-8-2023
Summer officially starts on June 21st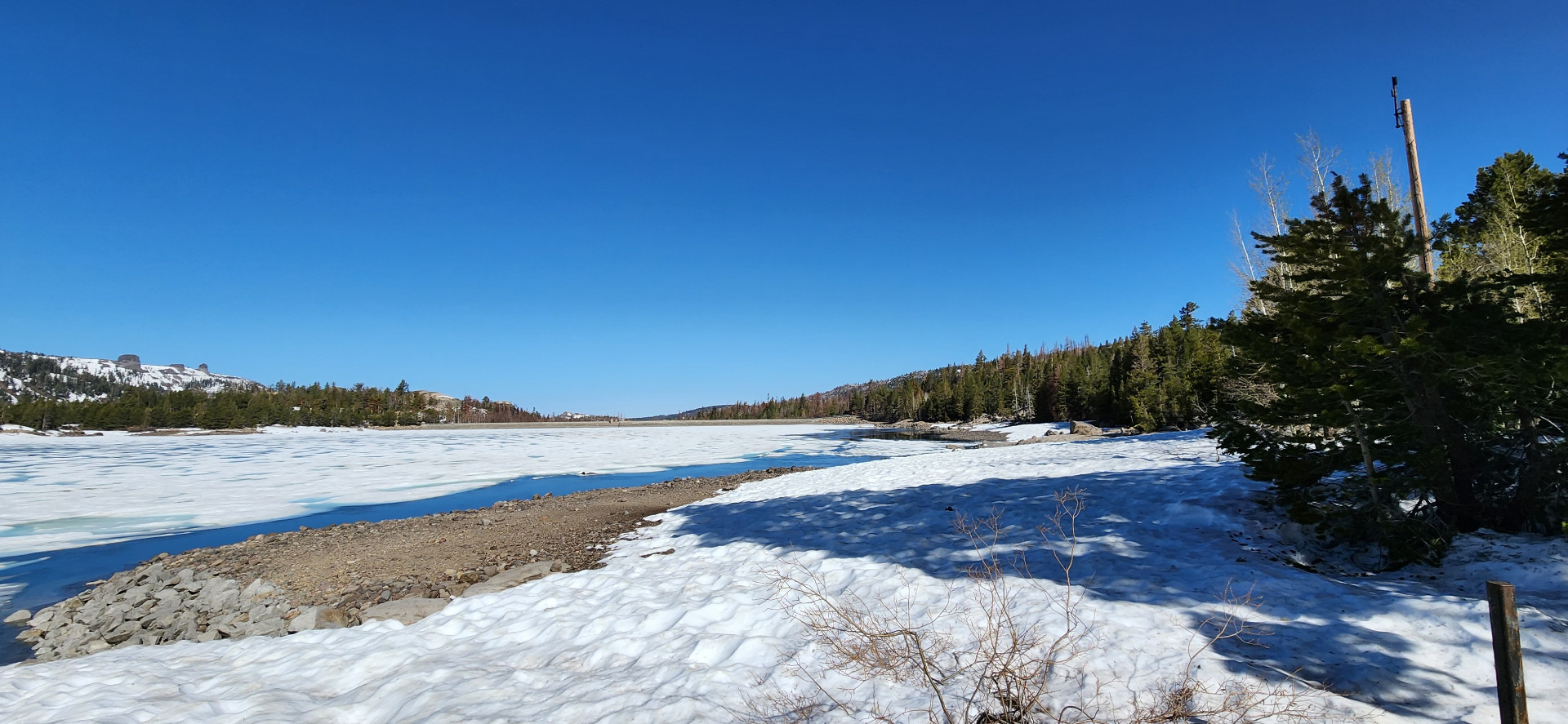 Caples Lake
Hello fellow anglers! This has been a very strange year, as we can all agree. We've had excessive snow followed by non-stop rain, resulting in a ton of mosquitoes. So wherever you go, don't forget the bug spray. Summer officially starts on June 21st, but many areas are still dealing with winter remnants. If you're traveling around the Sierra's, here are a few notes to keep in mind. Despite the altitude, rattlesnakes have emerged, so be cautious of where you reach and step. If you need a reminder of what can happen, look up "Fishing Writer Survives Bite by Rattlesnake" on the Tahoe Tribune website. Trust me, you wouldn't wish that experience on anyone. Additionally, when venturing on dirt roads, especially in the Bridgeport area, be aware that many of them are still muddy and have required rescues. Let's use common sense and eventually leave winter behind us as we explore the outdoors once again.
Here are some updates on various lakes and rivers:
SILVER LAKE HIGHWAY 88: The lake is currently 67% full, and about 80% of the ice has melted. The boat ramp is open, but please use it at your own risk. Due to low water conditions, watch out for submerged rocks, trees, and logs.
CAPLES LAKE: The lake is currently 75% full, with about 90% of it still covered in ice. There's a ring of water around the first dam where people are fishing. The day use and boat ramp area may open before the July 4th weekend, depending on the weather. The Caples Lake resort is also working towards opening around the same time.
RED LAKE: Approximately 80% of Red Lake is still covered in ice. Some anglers have been fishing in a small 10 to 15 ft ring of water along the shoreline.
WOODS LAKE: CLOSED
BURNSIDE LAKE: CLOSED
BLUE LAKES: The road is open to the second gate, but camping options along the roadside are not available due to snow in the area.
CARSON RIVER WEST FORK ALPINE COUNTY: The water is running high in the Woodfords Canyon area, but the Hope Valley area is accessible, including the fishing access area in Picketts Jct. No fish plants are scheduled.
CARSON RIVER EAST FORK: The river is still flowing strongly and is not suitable for fishing at the moment. The road is open up to Silver Mountain City, a few miles past the Wolf Creek turn off. The Carson River resort is open for tent and RV camping, and they may have a cabin available for rental. Due to high runoffs, there are no fish plants scheduled. For more information, visit the Carson River Resort.
INDIAN CREEK RESERVOIR: The lake level has risen, and weeds are starting to appear. The lake has been recently stocked by CDFW and Alpine County. The campground area will remain closed this year due to the Tamarack fire. Both roads are open with no restrictions. During my last trip, I was amazed at how much water was in Curtz Lake, located halfway between the airport and Highway 89. While it may not have any fish, there will be plenty of frogs and mosquitoes this year.
WOLF CREEK: The road is closed for repairs due to damage caused by recent winter and rain.
MONITOR PASS: The pass is open, and the snow is melting rapidly. In just a couple of weeks, the snow level has dropped from 15 feet to just a few feet.
EBBETTS PASS: CLOSED
TOPAZ LAKE: The lake level has increased by about a foot. Fishing has been inconsistent, with good days followed by slow ones. Trollers have been more successful in the early morning hours on the west shore using Flashers, Rapalas, or needlefish lures. As the day progresses, stay on the west side but move out to depths of 25 to 35 feet and keep your presentation deep. Shore anglers have had fair success with salmon peach or green PowerBait.
BRIDGEPORT RESERVOIR: The lake level on Bridgeport has risen significantly but is still very low. The water clarity has improved, although it remains somewhat off-color. Anglers are catching a few fish here and there, primarily fishing from the shore with bait. One angler reported catching perch and a couple of rainbows by casting Panther Martins from the dam. For more information, visit Ken's Sporting Goods.
TWIN LAKES: The fishing action at the Twins is still very good, with lots of pan-sized fish being caught along with a handful of larger rainbows and a few browns. Although nothing over 10 pounds has been caught recently, there are plenty of nice fish. Bait anglers are using power bait, inflated crawlers, mice tails, and pinched crawlers. Lure anglers are having success with Rapalas, Thomas Bouyants, speedy shiners, and Kastmasters. Fly anglers are finding some success stripping streamers and leech patterns. For more information, visit Ken's Sporting Goods.
JUNE LAKE FISHING REPORTS FROM MY FRIEND KNOT: Since mid-May, we've been catching 7 to 21 Rainbows mostly in the 10" to 12" range, with a few 3 to 4 pounders on each trip. We've had success using a variety of floating baits like PowerBait, Garlic Pinched Crawlers, and Mice Tails. Oddly enough, we haven't caught anything on a nightcrawler under a bobber, which is usually our go-to method.
GULL LAKE: During our three trips to Gull Lake, we've caught a similar number and size of Rainbows as in June. Interestingly, on the first two trips, all the fish were caught on a nightcrawler and bobber near the reed lines. However, during the third trip, all the fish were caught using floating baits in deeper water away from the reeds.
RUSH CREEK: The creek is currently flowing very high and fast, and no trout plants have been done yet. It would be wise to avoid it until things calm down a bit later in July.
GRANT LAKE: Upper Grant, above The Narrows, was the only decent-sized ice-free water in the area on the Opener, and anglers had success catching Rainbows and Browns. "Hook 'em Danno" from Dan's Guide Service, who fishes Grant almost daily in the evenings, is a good source of information. He started off well in mid-May, catching stocked Rainbows, Wild Browns, and the occasional Kamloops. Lately, it has been tougher as the lake level is rising quickly and the fish are moving to different locations almost overnight. Once the water level stabilizes (meaning full and over the spillway), the fish should settle into their "happy spots." And as Knot always says, "keep chuck'n and grind'n!"
Good luck on your next fishing adventure! Just a couple of reminders: Nevada's free fishing day is on June 10th, and California's free fishing day is on July 1st. Also, please remember to pack out what you pack in and keep our outdoor recreation areas clean and free of litter. If you catch something impressive, feel free to send a photo to [email protected]. Hope to see you on the waters soon. Good fishin' and tight lines!
Good luck on your next fishing adventure. If you have a question. a report in our local fishing area or have a photo of your catch, send it to

[email protected]

. Hope to see you on the waters. Good fishin' and tight lines.
www.NevadaFishReports.com © 2023. All Rights Reserved.
Website Hosting and Design provided by TECK.net