Nevada Fish Report
Kilarc Reservoir Fish Report for 8-29-2016
​Going Weedless For Bass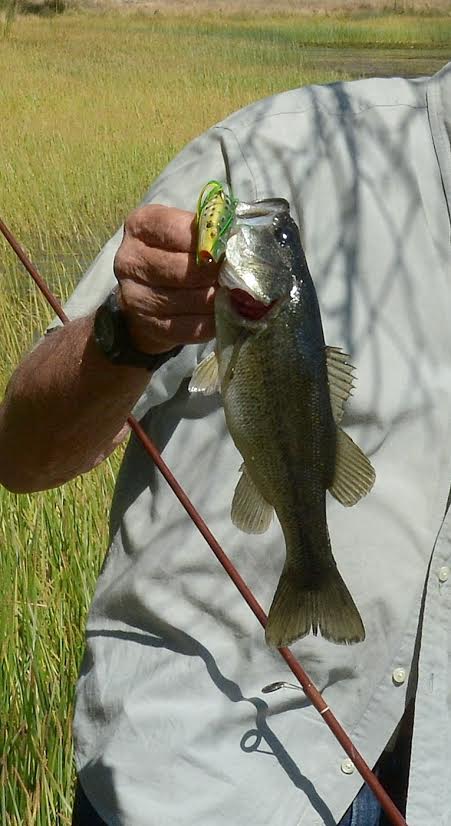 This bass was fooled by a Revolution Popping Frog lure.
Photo Credit: John Higley
Boy, summer is flying by. I've managed a couple of trips into the Thousand Lakes Wilderness on the Lassen National Forest, but otherwise it's been mostly work and just a little play. People keep asking me if I'm retired and I tell them, "No, I'm just tired".
I'd like to say that I caught lots of mountain trout in the wilderness but that wasn't the case. The fishing was good, it always is, but the catching left a lot to be desired. The best fishing I've had this summer was at Kilarc Reservoir and on a local ranch pond in the foothills near Whitmore. The largemouth bass I caught there were not giants, but some were respectable, and all of them were fun.
At this time of year the pond is ringed by grassy weeds, moss and lily pads. I don't have a small boat or even a float tube so I fish from the bank. I have to compensate for the weeds by casting beyond them, and keeping my fingers crossed that I can snake my lures back to shore without getting them hopelessly tangled in the mess.
With 10 pound test line I can usually pull the lures through the weeds and get them back, but I do break some of them off in the process. To alleviate the problem somewhat, I use the most weedless offerings I have. They include five inch Yamasenko plastic worms which, when rigged Texas Style with the hook imbedded in the worm, slip through most tangles and live to be cast over and over. Of course, when a fish grabs it it's another story, but so far I've landed most of the bass I've hooked.
Lately, I've been experimenting with what I think are the most weedless lures of all. That would be soft bodied, floating frog imitations with the hooks curved up around the bodies. Some, like the Scum Frog and Revolution Frog Popper, have a concave nose design which elicits a popping sound with a start and stop retrieve. Others, like the Snagproof Frog and Lunkerhunt's Lunker Frog, are made to swim without much disturbance like a frog pushing itself gently through the water.
These lures are effective when fished in open water, but they really shine when fished around and through the lily pads and weeds. On the pond I could cast them on top of the lily pads, and work them back across small pockets of open water where just enough bass were waiting to make things very interesting. Catching bass on topwater lures is always exciting, and a fish exploding up from its hiding spot to nail your innocent frog as it slips off a lily pad definitely gets your attention.
In the past I didn't use frog lures all that much, but in the future that will change. I will keep the frogs on hand whenever it looks like they have a place. I looked recently and found the frog lures I used on the rack at Sportsman's Warehouse. I bought four different ones, and I plan to get a few more before summer is over.
If you find yourself in a situation similar to mine, I highly recommend giving fake frogs a try. They worked very well for me, and they just might be the answer for you.

Author and writer John Higley is a resident of Palo Cedro. His articles have appeared in outdoor magazines hundreds of times and his columns appear regularly at myoutdoorbuddy.com. Higley has written four books the latest of which "Successful Turkey Hunting" was published in May, 2014 by Skyhorse Publishing in New York. This hard cover, full color book is being sold at Barnes and Noble Book Stores and on Amazon. Autographed copies are available direct from John Higley, P.O. Box 120, Palo Cedro, CA 96073. Cost is $28.95 postage paid.
Next Report >
Next Report >
More Reports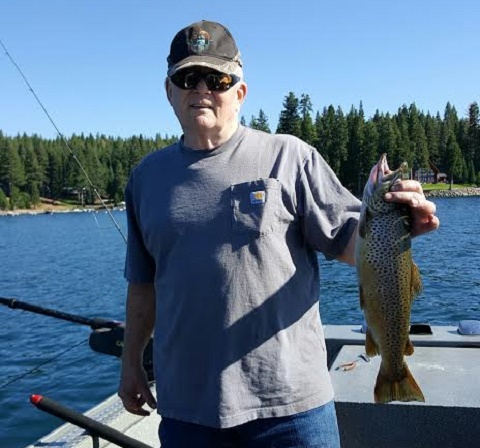 8-11-2016
I had occasion to fish a "scouting" trip with Captain Bryan Roccucci of Big Daddy's Guide Service last Friday......
Read More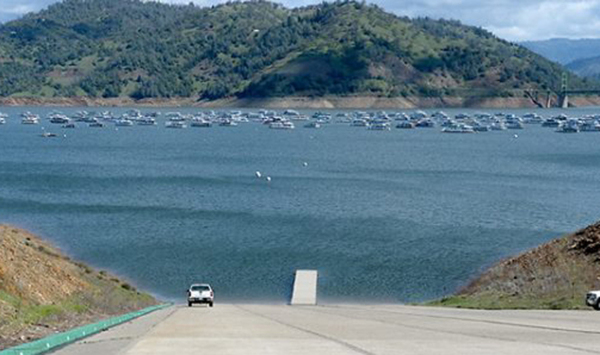 8-9-2016
Lake Oroville is dropping a tad more than a foot and a half a day now. The current elevation is......
Read More
Nevada.FishReports.com © 2020. All Rights Reserved.
Website Hosting and Design provided by TECK.net