Nevada Fish Report
Fish Report for 9-15-2016
Carson Now Fishing Report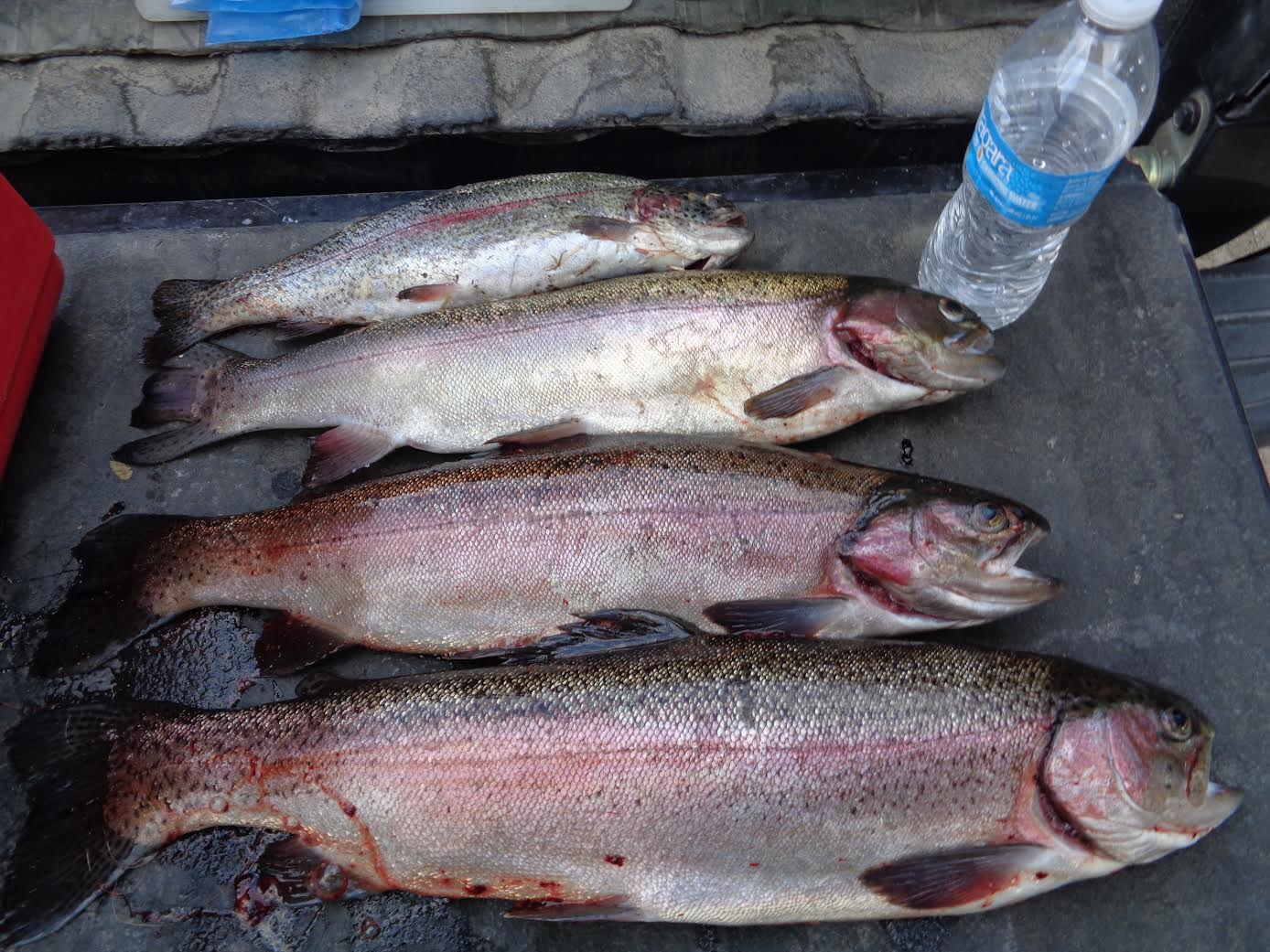 Catch from the east Carson River last week.
Photo Credit: Carson Now
Hello fellow anglers, Fall is only a few days away. Snow was falling at Kirkwood last week. The time of year to bring extra gear such as warm clothing. The temperatures in our surrounding areas can change rapidly. Last week we fished Weber Lake east of Yerington NV. When we left it was 92 degrees, by the time we got to the Topaz Lake area the temperature was 72 and raining. you can check the Cal/Trans website for road work schedules. They are doing road work on highway 88 with delays from 2-30 minutes. Highway 4 over Ebbets pass will be closed a couple days for road work. Always check ahead of time before you venture out. Now for or local fishing report.

CAPLES LAKE; The resort will be open until mid October and will close for the winter season. Due to the recent passing of owner John Voss, they will restructure and open in the spring. Fishing has been good for shore anglers by the dam. Garlic Powerbait or night crawlers have been most productive. The fish have gone deep, so the trollers have been working hard for a couple fish lately. The CDFW planted the lake last week with some catchable rainbows. That should get the browns and the mackinaw to get on the bite soon. Fished a couple weeks ago with Steve Lightfoot and we worked the lead core with Raplala's and small cowbells with a half a night crawler and caught a couple small rainbows. As of this week the boat ramp was still open and will close at the first sign of significant snow fall.

WOODS LAKE; The lake was planted with small rainbows by the CDFW a couple weeks ago. Night crawler or salmon eggs have been most productive.

RED LAKE; Some anglers have reported they caught a few small rainbows using salmon eggs off the dam. In a few months we will all be gathering for the annual ice fishing get together. Where has the summer gone?

HIGHLAND LAKES; A great place for small brook trout. Use caution as the weather in that area is changing on a daily basis. As well as road work by Cal/Trans. Salmon eggs or small flies are your best bet. The far end of the lake by the campground has been the most productive area to fish.

BURNSIDE LAKE; Planted by the CDFW recently. Small spinners or salmon eggs are productive.

INDIAN CREEK RESERVOIR; Early morning fishing has been most productive. Anglers have been using garlic or salmon peach Powerbait. The weeds are still plenty, but that is where you will find the fish. Best areas to fish have been by the campground or by the dam. Campground is still open and usually closes around the end of October, depending on weather.

CARSON RIVER WEST FORK CALIFORNIA SIDE; The CDFW planted the river a few weeks ago with small rainbows. The water flows have dwindled down to crawl in a few areas. I would recommend to fish the canyon area between Woodfords and Sorenson's Report. Hike down to those deeper pools or the faster moving rocky areas. For more information stop by the Creekside Lodge in Markleeville CA.

CARSON RIVER EAST FORK CALIFORNIA SIDE; The flows are very good and the river has been fishing well. I fished with an 1/8 once yellow and silver Panther Martin spinner and caught and released 15 nice rainbows. I talked to a few anglers that were using orange Powerbait and had good success. A fly angler told me he did well using a copper jon. The fish are spread out along the river, I would recommend a little walking and fish the faster waters to get more action. For more information stop by the Carson River Resort.

TOPAZ LAKE; The water level has dropped about 10 feet. The Douglas County Park ramp is still open. Fishing has been good for boat anglers very early AM. Anglers have been using down riggers or lead core trolling in 30 to 50 feet of water with Rapala's or Needlefish lures. Average fish has been 13 to 16 inches. Shore anglers have been doing fair with Powerbait or inflated night crawlers. Remember that fishing season closes on October 1st 2016 and will reopen on January 1, 2017. For more information stop by Topaz Landing.

WALKER RIVER NEVADA SIDE; The water flows are very good for this time of year. Last year there was hardly any flow at all. Down through the Wilson Canyon area, fishing has been productive. The NDOW planted the east and the west last week. Roostertails or panther Martin have been working well. While in the deeper holes Powerbait or salmon eggs have produced a few rainbows.

NEVADA FISH PLANTS; This is over the last 2 weeks. Spooner lake, Truckee River, West Walker, East Walker, Mitch Pond, Sparks Marina.

CALIFORNIA FISH PLANTS; Burnside Lake, Blue Lakes upper and lower, Caples Lake, Woods Lake, Carson River east and west fork, Kinney Reservoir.

I hope to see you on the waters. This time of year, the fishing only gets better as the days get shorter and the temps cool down. If you have photo of your catch, send it to dprice@recordcourier.com. Have question in our local fishing area call the Naw line at 775-267-9722. Dress accordingly and be prepared for fall weather. Good fishin' and tight lines
Good luck on your next fishing adventure. If you have a question or a report in our local fishing area, call the Naw line at 775-267-9722. If you have a photo of your catch, send it to nevada@fishreports.com. Hope to see you on the waters. Good fishin' and tight lines.
Next Report >
Nevada.FishReports.com © 2020. All Rights Reserved.
Website Hosting and Design provided by TECK.net