Nevada Fish Report
Fish Report for 9-1-2016
Carson Now Fishing Report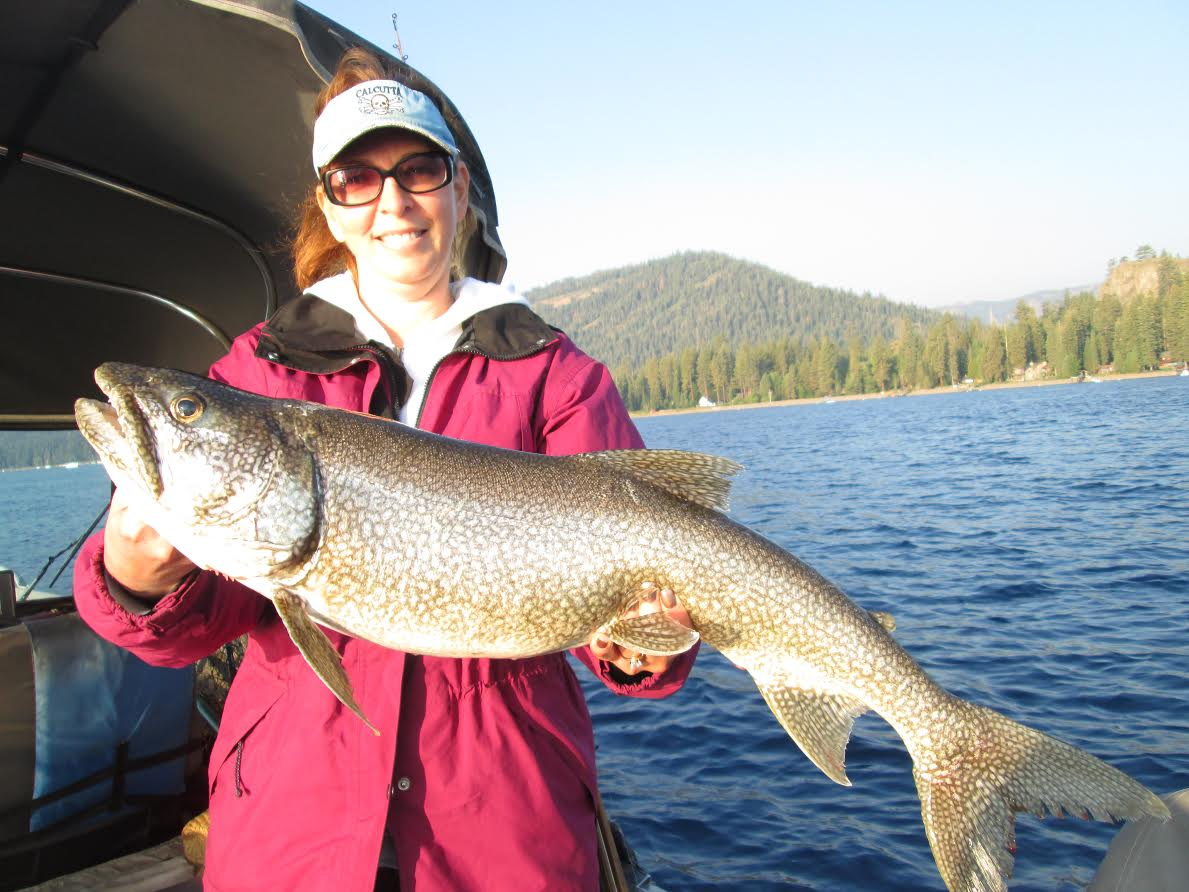 Photo Credit: Carson Now
Hello Fellow anglers, Many have been asking, where is the Naw report? I have been fishing in Oregon for the last couple weeks and did quit well. We caught green and blue ling cod and a few black sea bass out of Brooking's. Did a little surf fishing for perch. I only wish the salmon fishing was as productive, but did get a few small steel head trout. When I returned home I had a message that a friend had passed away. I had the privilege of knowing this man for 28 years. I thought he was a little crazy at first. I would take my boat up to Caple's Lake to troll and I would see this man swimming across the lake in nothing but a basic swim suit. Now this was in the spring time, mind you. I personally, was wearing a big jacket and had a heater on board. I met the man at the marina and he introduced himself to me as the owner of the resort. We became good friends over the years. Some people would say he was hard man to know, the way he spoke. I respected and admired him because he told you exactly what he wanted to say. Especially when he would joke about my fishing abilities. For years he has been trying to get a picture of me with my catch. I purposely have eluded his attempts to harass him back. I wish I could change that, and had taken one picture of the two of us. John Martin Voss passed away peacefully on August 10, 2016 at the resort. I watched this little resort grow into the great place it is today. Because of the ingenuity of John Voss, The Caples Lake resort supplies its own power though solar and wind, it is completely off the grid.

I will miss our conversations, the pictures of his kids and grand kids that he would share with me. I accused him of becoming a softy each time he would share them with me., as he would brag and go one about how they have grown. John was a proud grandpa, I am so proud to have called him my friend. I fished Caples Lake last Saturday and when I stood by the store looking towards the lake, I could still hear him saying. " So Busey, where is all the fish? I want your picture". For those that would like to pay their respects, there will be a celebration of John's life at 2pm on October 1st at Red Cliffs Lodge in Kirkwood.

LAKE TAHOE: Mackinaw action has been hot. many limits of 3-6 pound fish have been coming in. Last Saturday Michell Kindall from Alaska reeled in a nice 20 pound mackinaw while fishing on the PT 109 with Gene St Denis. Best action has been on the Tahoe shelf in 120 to 240 feet of water. Medium chrome dodger and a live minnow has been most productive. Kokanee action has been spotty out in front of Camp Richardson. Go to the deeper waters and you will find them suspended between to top and bottom. The Cave Rock launch is still closed with no know opening day. To launch your boat there is Lake Forest, Obexers and the Tahoe Keys Marina. For more information call Blue Ribbon Fishing Charters at 530-544-6552.

CAPLES LAKE: The water level has dropped about 10 feet. Both of the boat launches are open. rental fishing boats and kayaks are available at the marina. Fishing has been hard and slow. I fished last week with Steve Lightfoot. We trolled deep and long linned rapalas. We caught two small rainbows lost a few others. Most anglers we spoke to had the same luck with blades and a crawler. Shore anglers have had better luck off the dam using inflated night crawlers or Powerbait. be sure to dress warm. At 6am the temperatures were at 33 degrees. For more information stop by the Caples Lake Resort.

WOODS LAKE: Fishing has been fair for small rainbows. The CDFW planted the lake awhile back and the fish are becoming active.

CRATER LAKE: No, not in Oregon. This lake is located two miles past the Blue Lakes turn off on the west side of highway 88. I would recommend a short base four wheel drive to drive to the lake. You can also park on the bottom and walk up. The view from the lake overlooks Hope Valley and partial of the Blue Lakes area. Here you will find small brook trout that have airbrushed features. There is a special limit regulation on Crater lake. Up to 10 brook trout per day less than 10 inches in total length may be taken and possessed in addition to the other daily bag and possession limits specified for the sierra district.

BURNSIDE LAKE: Located 7 miles in from the intersection of highs 88 and 89 in Hope Valley. Fishing has been slow, the lake was planted by CDFW once this summer.

BLUE LAKES: Water levels are down, camping and hiking is great, fishing is slow. The lake was planted by CDFW recently. The average trout is 8 to 12 inches.

INDIAN CREEK RESERVOIR: The lake level is good, the weeds are plenty. Lure fishing is close to impossible off the shore. Early morning powerbaiters have picked up a few on garlic or salmon peach. Make sure you put a long leader on to get the powerbait up above the weeds. Campground is open on first come first served basis. be aware of the rattlesnakes in the area. early morning or evening fly fishing has been most productive. I prefer an olive woolly bugger with a Copper Jon trailer.

HEENAN LAKE: Opens this weekend. Located on top of Monitor pass on highway 89. Special regulations are in place at Heenan lake. Artificial lures or fly's only with a single barbless hook. Catch and release only. You may take a carry down boat or canoe but no gasoline motors allowed. A float tube is the most preferred method of fishing, and if you want to see what a big bowl of Cheerios looks like, venture up this weekend. The lake is open only Friday, Saturday and Sunday's until the last weekend of October.

CARSON RIVER EAST FORK CALIFORNIA SIDE: Water level is perfect for this time of year. The fishing has been slow, but should pick up this weekend. With a joint effort from the Alpine County Chamber of Commerce, South Tahoe Public Utility District and the Alpine County Fish and game. The river will be planted with a little over 1000 pounds of 10 inch to 4 pound rainbows. Small spinners are productive, for bait anglers you can't beat a small split shot and a couple salmon eggs. Use caution and watch where you step, there have been a couple rattlesnakes reported in the area of the Carson River Resort. Which by the way is up and in full operation. The fire did take out the storage unit and the miners cabin. But the rest of the resort is ready for Labor Day weekend. For more information stop by the Carson River Resort.

CARSON RIVER WEST FORK CALIFORNIA SIDE: The water levels are low. I would recommend the deeper hole in the Woodfords Canyon area. The fishing has been slow but will pick up with the recent plant of 10 inch to 4 pound rainbows. The plant was provided by the Alpine Chamber of Commerce, South Lake Tahoe Public Utility District and the Alpine County Fish and Game. If you are in the area of Markleeville on Saturday, the are having Music in the Park with a live band " The California Sons" starting at 4pm. For information on fishing stop by the Creekside Lodge.

TOPAZ LAKE: Fishing has been fair for those that work for it. I fished with friend Tom last week and we trolled Rapals and Needlefish for 6 hours. We were rewarded with 2 rainbows each ranging 15 to 19 inches. On the weekends the water skiers and jet skiers will be out by about 10am so hold on to your life vest. Some are not so courteous as the angler and will try to impress you with maneuvers and speed. Now if you find your self with nothing to do on Sunday afternoon. Come see me at the annual Firefighters BBQ just in front of the Topaz Marina. On Saturday night at 1am they will wrap the many shoulder roasts with a special marinade and put them into a deep pit to cook all night. The festivities will start at 12 noon and run until 6pm. Live band, dancing, good food, a silent auction along with a verbal auction, and 200 raffle prizes will be available. The lunch with all the fix ins is only $10 a person. Now best of all, you get to share your day with the Topaz Lake Volunteer Fire Fighters and show your appreciation.

Fellow anglers, for the last treat for this labor day weekend. Saturday September 3, 2016 is free fishing day in California. You must abide by all the rules and regulations for each body of water you decide to fish, but there is no licence required on that day. Remember that there are no campfires allowed out side of designated camp ground areas, Period.
Good luck on your next fishing adventure. If you have a question. a report in our local fishing area or have a photo of your catch, send it to

[email protected]

. Hope to see you on the waters. Good fishin' and tight lines.
Next Report >
www.NevadaFishReports.com © 2021. All Rights Reserved.
Website Hosting and Design provided by TECK.net