Nevada Fish Report
Fish Report for 8-18-2020
Endangered Fish Can't Catch a Break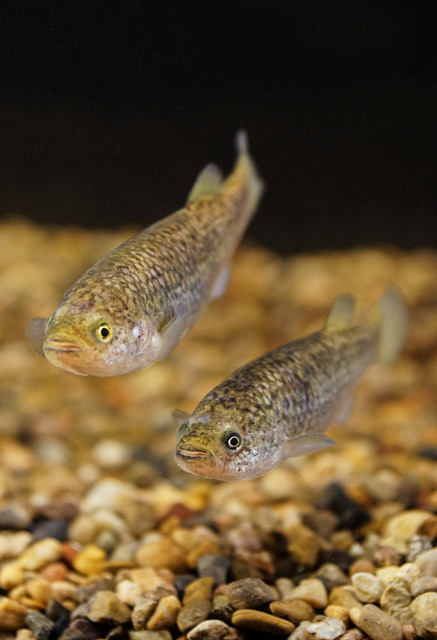 Pahrump Pool Fish
Photo Credit: Courtesy of NDOW
by Nevada Department of Wildlife
8-18-2020
Website

The Pahrump Poolfish is an endangered species that just cannot seem to get a break. It has lived on the edge of extinction since the early 1970's when groundwater pumping caused Manse Spring, the only warm water spring in which they were found, to dry up and remaining poolfish were relocated to various locations in Nevada for safe keeping.
In recent years, however, this Nye County native has faced a new threat. One that comes from nonnative aquarium fish that have been released illegally into two of those refuge sites, Corn Creek and Lake Harriet.
Corn Creek is the hub of activity on the Desert National Wildlife Refuge and is managed by the U.S. Fish & Wildlife Service.
"Corn Creek has played an important role in conserving the Pahrump Poolfish since the early 1970s," said Brandon Senger, supervising fisheries biologist for the Nevada Department of Wildlife in Las Vegas. "Unfortunately, each time the poolfish has begun to thrive in that environment, aquarium fish have found their way into the springs and the poolfish population has subsequently crashed."
That population plummeted from nearly 2,000 fish in 2018 to only 30 in 2019, but it is not the first time the Corn Creek poolfish population has experienced such a decline. The first occurred in 1999 when a once thriving population completely disappeared after the introduction of nonnative aquatic species.
Some people think releasing their unwanted aquatic pet into the wild is the humane thing to do, but it is actually cruel. Not to mention illegal. The animals often die because the natural environment is much different than that found in an aquarium. Pet fish and other aquarium species also can introduce diseases into the ecosystem, as well as out reproduce and then outcompete native species for food and resources.
The only way to recover the Corn Creek poolfish population after the 1999 crash was to remove all nonnative aquatic species from the spring system and replace the poolfish that had been lost. And this will be the only way to recover the Corn Creek poolfish population in 2020 as well.
NDOW fisheries biologists will use rotenone as a piscicide to eradicate the nonnative fish species now found in the springs, which include goldfish, mollies, mosquitofish, and the weather loach. Rotenone is a naturally occurring substance derived from the roots of a South American plant and has long been used by indigenous peoples to capture fish. It works specifically on gilled organisms by preventing the absorption of oxygen but decomposes quickly so it does not remain in the environment.
Lake Harriet, located within Spring Mountain Ranch State Park, once housed Nevada's largest poolfish population numbering more than 15,000 fish in 2015. Following the illegal introduction of crayfish and mosquitofish, that number dropped to 362 fish within a year.
To prevent total loss of the Lake Harriet poolfish population, biologists salvaged the remaining poolfish from the lake and moved them to the Lake Mead Fish Hatchery and Corn Creek. In a collaborative effort, the Nevada Division of State Parks and NDOW eradicated the nonnative species by draining the lake and allowing it to remain dry for multiple years. During this time, staff completed renovations to improve habitat quality and long-term stability of the system.
Those efforts proved successful when NDOW biologists repatriated 316 poolfish to Lake Harriet in June 2020.
"These setbacks in our conservation efforts for the Pahrump Poolfish are both frustrating and preventable. If someone no longer wants their pet fish or turtle, we ask that they please don't let it loose. Instead, they should be returned to a pet store, given away or disposed of responsibly," said Senger.
Beyond the impacts to native species, non-native species bring financial costs for their removal. Additionally, actions such as drying out Lake Harriet deny the public access to these area for recreation.
More information about the negative impacts of releasing unwanted pets into the wild, as well as resources for finding a new home for unwanted pets, can be found online at https://www.dontletitloose.com/state/nevada/
Next Report >
www.NevadaFishReports.com © 2020. All Rights Reserved.
Website Hosting and Design provided by TECK.net