Nevada Fish Report
Fish Report for 9-17-2021
Eastern Sierra Fishing Report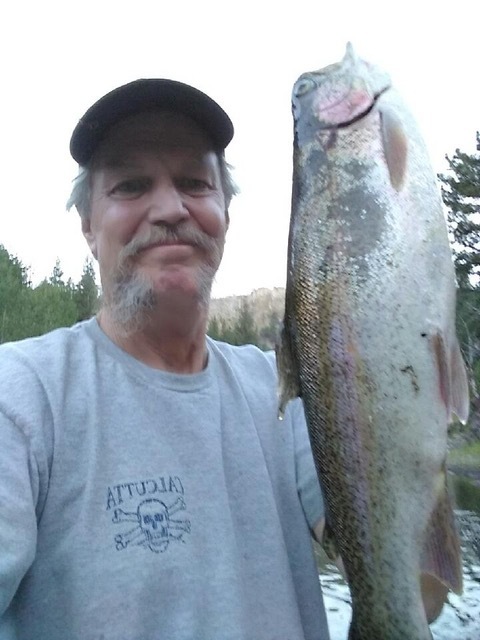 Photo Credit: Courtesy of Doug Busey
Hello fellow anglers. There is a lot going on with the west coast this year. Renee and I tried to escape the local fires and heat a few weeks back. We took a trip up to Oregon, barely making it past a roadblock on highway 44 due to the Dixie fire. One sad part about the trip up was, we never got out of the smoke until we got past Medford Oregon. Then to add more to the trip, The Rogue River was shut down to fishing the day before we arrived due to excessive heat and low water conditions. So, no steelhead fishing this trip. We decided to try the coast and do some ocean fishing. We have fished with a friend we met in Crescent City for the last few years. I received a text that he had to leave to save his house from the Dixie fire. We attempted to try other means of ocean fishing. But a front moved in and we were not too keen on 15 ft waves and 40 knot winds. We made the best of our trip and explored the coast from northern CA up to Bandon Oregon. The day before we were to go to Grants Pass to see family. There was a five alarm fire right across the street from where we were staying. A motorhome had burst into flames behind a gas station. With the amount of firefighters that swiftly attacked the fire, It was out quickly. That night we watched the local news and they told us about the Caldor Fire that was threatening Lake Tahoe. Now with all the roads closed, due to the Dixie and Caldor fires, we had to find a new way home. We finally made it home to be welcomed with more smoke than when we left.  When we left, we had the Tamarack smoke to deal with and come back to something much bigger. It has been a heck of a year, between smoke, getting evacuated and losing a lot of our precious resources. I do not think I have to mention anything about fire safety. The National Forest Service has made it perfectly clear. No campfires, no smoking outside of your vehicle, no parking or driving over tall brush or you can and will be fined $5000 for individuals, or $10,000 for groups of people for violating these rules. On a better note, they have opened up some of our forest areas to the public. I have a small local report to let you know where and where we cannot venture.
SILVER LAKE: No fishing reports due to highway 88 has been closed for two weeks. CalTrans is planning on opening the road Friday morning.
CAPLES LAKE: No fishing reports due to road closure. I talked with Joe Voss from the Caples Lake resort today, he told me. "We survived. I went up on Tuesday for a quick look, the resort was fine and the lake was holding up, only part of the dock was on shore. Caples creek took a pretty hard hit, a lot of the south side torched up to the rocks behind the campground, looks like that is where they stopped it. They are still working fires in the Caples drainage, out towards Margaret lake, and over by Sayles and Bryan meadows".  Cal/Trans is scheduled to open the highway Friday morning and he will be getting the resort back up and open for business as soon as he can. For more information stop by the Caples Lake Resort. No word on when or if the EID day use and boat ramp will be open.
BLUE LAKES: From up and over Carson Pass. In light of the closure of Eldorado National Forest lands from the Caldor Fire and also the threat of even more fires, PG&E has decided for safety reasons to close all of its campgrounds and day use areas at Blue Lakes for the remainder of the 2021 season.
BURNSIDE LAKE: The road is open with strict rules. No off-roading and no campfires.
CARSON RIVER WEST FORK CALIFORNIA SIDE: The water level is very low and the fishing has been nil. Only a few fish have been caught in the Woodfords Canyon area in the deeper holes.
CARSON RIVER EAST FORK: Renee and I journeyed up for a couple days last week. The water level is low but has many fishable areas. I am hoping the county can get back on its feet after the wildfire that almost took out the town of Markleeville. I am here to tell you, the town is open and they invite you all to come up and fish and celebrate their survival. The season is far from over and with the cooler temps, the fishing only gets better. Renee and I did some walking from on spot to another. We caught and released over 20 fish the first day, all were in the  pan sized range, with the exception of a 7 and a 5 lb trout I lost. The second day we did about the same, but I did catch one in the 4-5 lb class and one in the 2 lb class. For more information, stop by the Carson River Resort.
HEENAN LAKE: Good news my fellow anglers. As of Friday morning, the lake is now open to fishing until the last weekend in October. This year the regulations have changed. The lake is open 7 days a week and not just on the weekends. Reminder, this is a catch and release lake only. Artificial lure or flies with barbless hooks. The lake will be open until October 31st. Do not be surprised if you catch a 20 to 30 inch Cutthroat trout. Note: Carry down boats, kayaks,and canoes are allowed. But no gasoline motors. For more information, stop by the Creekside Inn.
INDIAN CREEK RESERVOIR: The campground and day use is closed due to the Tamarack Fire.The east side of the lake is open to fishing with access from Diamond Valley Road or from Howay 89.
BRIDGEPORT RESERVOIR: The fishing has picked up recently. A few fish have been in the 3 to 7 lb class. The Marina is open for camping and boat rentals. Boat launching is only available down by the dam off the shore due to low water. Do not use the day use launch area, you will get stuck in the mud. With cooler temps the fishing can only get better. I will be venturing down there in the near future. For more information, stop by the Bridgeport Marina. They will be open until November 15th.
Good luck on your next fishing adventure. It can only get better as fall approaches, which is just next week. If you have a picture of your catch, send it to [email protected] Hope to see you on the waters. Good fishin' and tight lines. " Mac The Naw"
Good luck on your next fishing adventure. If you have a question. a report in our local fishing area or have a photo of your catch, send it to

[email protected]

. Hope to see you on the waters. Good fishin' and tight lines.
www.NevadaFishReports.com © 2021. All Rights Reserved.
Website Hosting and Design provided by TECK.net