Nevada Fish Report
Pyramid Lake Fish Report for 9-28-2021
Let The Good Times Roll- Pre Season Report
Pyramid Lake - Sutcliffe, NV (Washoe County)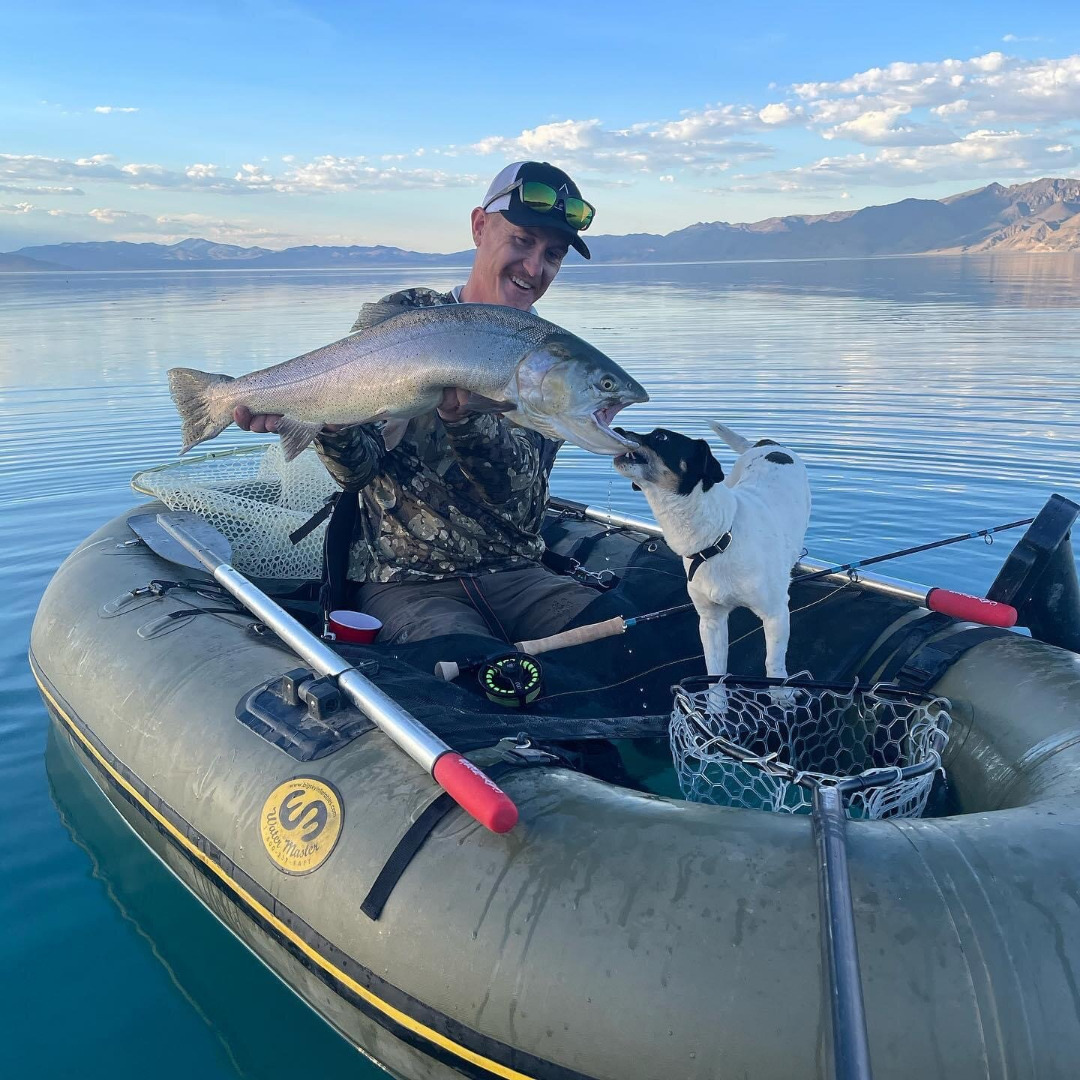 Are ya ready !!!! Let's Go !!!!
Photo Credit: Courtesy of Pyramid Fly Co.
by Pyramid Fly Co.
9-28-2021
Website

It is almost Fishmas Eve for those of us that love to fish for the "Worlds Largest Cutthroat Trout".
The alarm clock just went off and Im jumping up outta bed.  It must be a day off.  The truck is loaded up, watermasters hanging off the tailgate, rods are rigged up and the lunch is ready to go.  When the bite is good I dont make it to shore very often.  Over the years I've learned to bring it with or starve and suffer the consequences.  But that often leads to fatigue, a shitty attitude and a lot more missed bites.  Because face it, nobody is on their A game when they are hungry.  As I'm done talking to myself in the bathroom, I gather up the rest of my necesseties and head out the door.  It's still dark out and the traffic is minimal, the way it should be,  liike as if I was in an old western movie driving in the middle of the desert in the dark, not a soul in sight.  A bit eerie, yet welcoming in a way. This place and its surroundings are special.  I feel really at home out here at this large inland sea with my second family.  There is something about this magical lake, it gets under your skin but in a good way.
Cutthroat are a very predatory fish and are often very opportunistic.  There is something daunting about a trout that grew up over 60lbs historically before the lake was overfished and the trout were nearly wiped out.  These fish are gnarly to say the least.  Monster cutthroat over 10 pounds are caught daily around the lake and 20lbrs aren't unheard of at all. Lot's of big fish.  While the fish in the mid 20lb are unicorns it's the 30lb plus fish that everyone wants to see again, but is our gear strong enough?  In the month of October that's a damn good question.  The last couple of years I've been wondering if these 8 wts. are enough.  Do we need to be fishing 10 wts. for trout?  While a single hand 7 or 8 wt is plenty during the majority of the season, during the month of October when the fish are gorging heavily on bait fish they can really put those sticks to the test.  The amount of energy they have is mind boggling while fishing for them in the first couple months.  Quite often we get to see that dingy white line underneath all that fly line.  Make sure your knots are good and snug.  Hold on and don't give them a thing !
While shore fishing remains great throughout the season October is a month that is better off spent from a watermaster targeting those secondary ledges we cannot reach from shore.  These fish are hanging in the thermocline generally 40-100' deep during the first few weeks of October.  They are hanging with the bait fish and inhaling them steadily.  In lower water years we have seen these huge bait balls reminiscent of those seen in an ocean.  Sometimes 50-100 yards on the surface all the way down to the bottom makes for a wild sight to see.  Often times when the stars align like so and the bait is visable so are the fish for periods of time.  Like sharks slashing through bait, mouths open and tui chubs pouring in.  There is a reason these fish have teeth and they use them quite often.
  Fishing the opener can be a bit daunting for some when trying to tackle this large inland sea for the first time.  The fish are spread out and they aren't in all the usual shallow winter hangs.  They are everywhere in search of more food to inhale by the mouth full.  Bait can be found all over the lake and so can the trout.  Think steep and deep drop offs and ledges.  Since these fish are targeting bait fish that is what we are gonna be throwing at them.  Colors that mimic the chub are often browns, golds, greens, blacks and some white.  Think more natural, but it doesn't hurt to throw two flies and switch it up a bit.  If you love to huck the big stuff now is the time.  That first week we often see some really silly stuff.  These fish are hungry and love to eat properly presented meals.
With October creeping up on us in a hurry we are geared up and ready like a little kid waiting for Christmas morning.  Bait balls and monster cutthroat up over 20lbs im not sure there is many, if any trout fisheries that compare or rival Pyramid lake.  If you want to try your chance at catching that trophy cutthroat that makes your knees shake and your hands tremble look no further.  We have the piece of water right here, waiting for to come dip your toes in and chase that next record cutthroat with us.
Home We're ready, are you ???  Let's Go !!!!!!
www.NevadaFishReports.com © 2023. All Rights Reserved.
Website Hosting and Design provided by TECK.net