Nevada Fish Report
Pyramid Lake Fish Report for 12-6-2022
Cold Front Equals Bent Rods
Pyramid Lake - Sutcliffe, NV (Washoe County)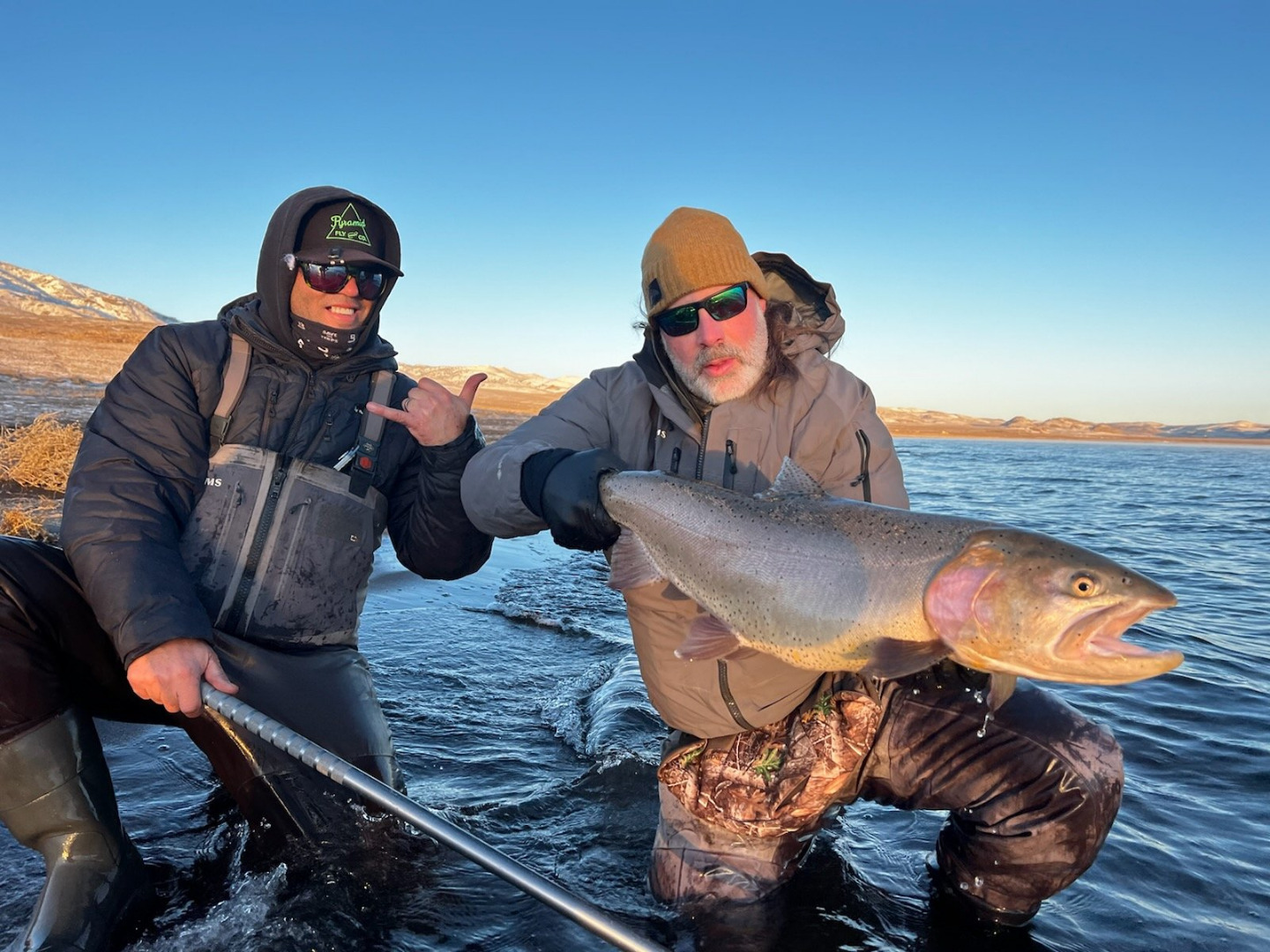 Client Robert holt from Texas had a great day with PFC Head guide Morgan Kane. WHAT A FISH, Great job guys !
Photo Credit: Pyramid Fly Co.
by Pyramid Fly Co.
12-6-2022
Website

The past few weeks have we have seen some downright ferocious monster cutthroat ripping line off reels in search of the middle of the lake. As these large trout roam the ledges looking for bait fish, they continue to pack on the pounds with a protein rich diet. What does this mean for the fish's energy levels? More strength and power than they know what to do with and they often use their weight to their advantage. We have seen more break offs this month than normal, because when you don't let them run, they are going to win every single time. The weather has been all over the place this last week and that has made for some tougher fishing but later in the week the pattern shifts into a nice low pressure period that should really get things kicked off.
There has been a lot of activity throughout the whole lake and the pattern shouldn't change anytime soon as we are still a ways away from spring conditions. Now is a great time to venture out and learn that new confidence zone as the crowds are nil, and the drop offs and ledges have changed a bit as the lake continues to drop. That ledge just out of reach last season is more than likely in the sweet spot now. The fish still continue to cruise in pairs and/or smaller groups so keep your flies in the strike zone and eyes on that little orange ball. We have been fishing the bobber more often as your flies remain in the zone the entire time you are fishing. Unlike retrieving flies on sink lines. In that case one is often playing the waiting game as we wait for our flies to get into the zone before we start our retrieve. That being said, we are pick up some feisty fish stripping buggers and beetles. If you get tired of staring at that little orange ball because it feels like it has a lifejacket on pick up that retrieving rod. Switch it up!
These fish are like cats and get bored as well. Sometimes they just want to pounce and kill. I never said retrieving flies doesn't work. Some days the big cat comes out in these monster trout and those days they prefer to move and pounce. Switch up that retrieval speed until you find out how they want to eat. Keep stripping. No trout sets or hard lifts when retrieving that sink line. And more often than not these fish will eat more than once as long as we don't trout set. Keep it moving and keep stripping until that fish is on and running.
While hanging flies under the indicator remains king, what does one do in order to entice these large predatory cutthroats? Do bugs, baitfish, minnows etc. remain stationary in the water column? Of course not! Well, neither should your flies. Have you ever fished for crappie, panfish or bluegill under a bobber as a kid? I hope so! Well, when doing so one often moves, twitches and wiggles said bobber to get the fishes attention in hopes of triggering more action. We do the same out here at the lake for these monster predatory trout. They are like little kids that crave constant attention. So, we give it to them! Whether it's twitching that bobber every now and then, tying flashly midges, bright popcorn beetles and other oddities to grab these trout's attention we as anglers do everything, we can to attract fish in hopes of fooling them into sucking up our flies. Are they the crazy ones? I don't think so.
As the cool weather continues to pile in the world's largest cuttroat trout continue to do the same as the bite window continues to improve during these stable weather events. Mid December through January continues to kick out some of the bigger fish season after season. As they continue to engulf tui chubs and midges to pack on the pounds before spring. The deep ledges and drop offs will continue to be the main jaunts for these large carnivorous trout as the continue to ambush their food source and pack on winter weight.
We have seen backing quite frequently and heart breaks have sadly enough, been the norm. A quick clamp down on the fly line when they want to take off results in a big frown and a bummed angler. More often than not they are going to take all that fly line that you just gained on them right back. Let em! This isn't the time of year when to, "show em who's boss". Once again, they are going to win.
So, if lesser crowds, fired up monster cutthroat, lakeside BBQ lunches and fun times on the water with friends, family, the kids, the dogs and or nobody else sounds like a great time, then the time is now. It's all the above out at Pyramid lake right now and the team is ready to go. With Reno a quick 30-minute drive away and Tahoe just over an hour from the lake it makes for an amazing destination fishery with plenty of things to do in the surrounding local area for you and the extended family to get out and explore. The fish are huge, the company is great and you sure can't catch em from the couch. Lets go fishing!
More Reports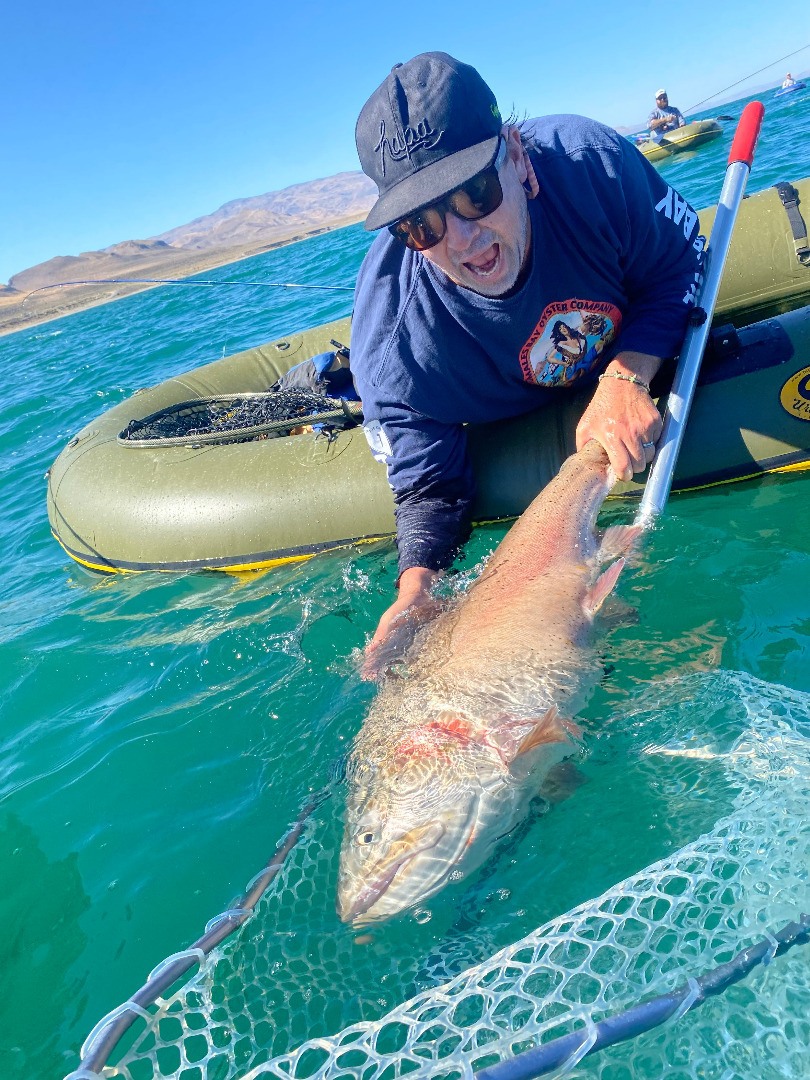 11-14-2022
As we slid off an amazing October we jumped into November with some amazing shore fishing as we got back......
Read More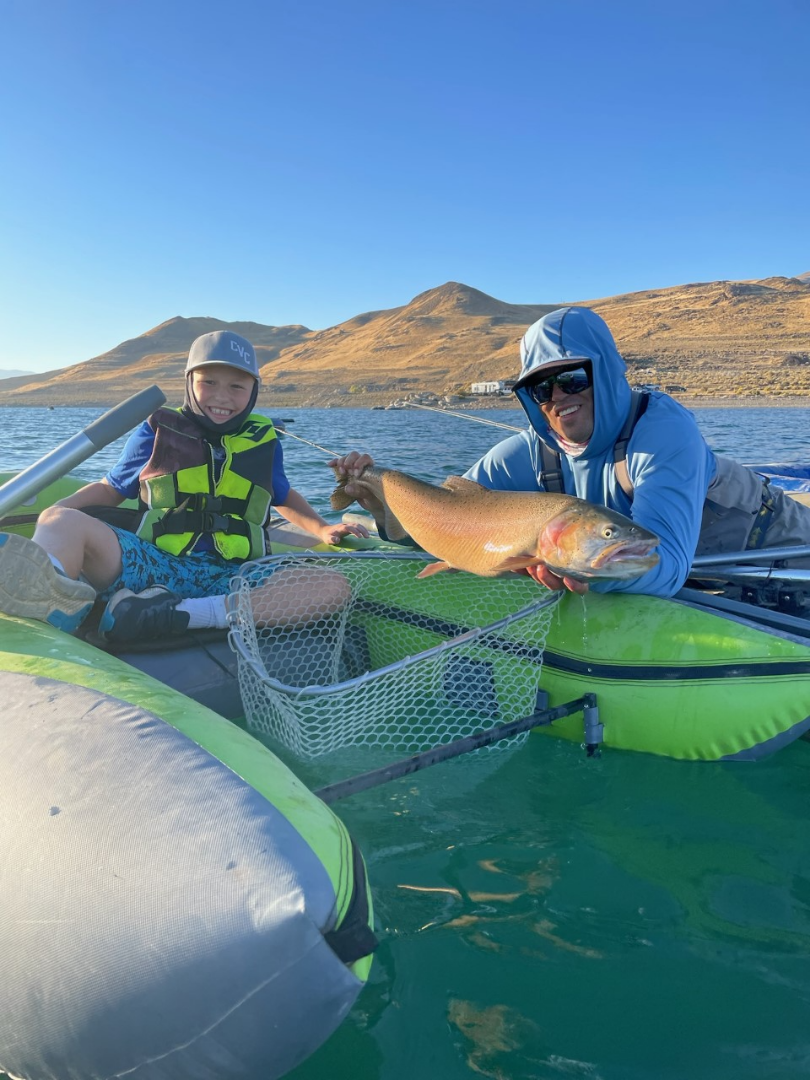 10-26-2022
I'll tell ya what, Old Man weather just knocked on our door at Pyramid Lake. Winds, could fronts and overnight lows......
Read More
www.NevadaFishReports.com © 2023. All Rights Reserved.
Website Hosting and Design provided by TECK.net