Nevada Fish Report
Shasta Lake Fish Report for 9-28-2016
​Kokanee in Shasta?
Shasta Lake - Shasta Lake, CA (Shasta County)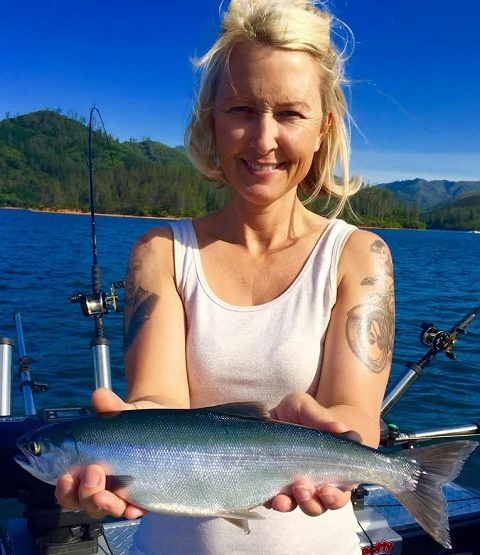 Hopefully kokanee like these will be present in Shasta Lake.
Photo Credit: Monty Currier and Jeff Goodwin
Kokanee fishing is becoming more and more popular for anglers throughout the state. Reports abound of great fishing in many lakes, and tournaments provided by organizations such as Kokanee Power continue to grow the popularity throughout the Tahoe/Sierra, Motherlode and North State regions.
Kokanee can be found to be self-sustaining in many lakes such as Whiskeytown where kokanee are beginning to stage as we speak, preparing to spawn in Clear, Whiskey, and Brandy Creeks. Besides offering great angling opportunities, small kokanee provide a food source for other predator game fish.
The state record land-locked king salmon taken a few years ago at Trinity Lake probably benefited from a few kokanee meals. The black and white, "cop car" Apex lure resembling a small kokanee is a very popular and productive lure at Trinity. And most North State anglers know of the relationship of kokanee with the record spotted bass of Bullards Bar. Yes, kokanee patterned swimbaits are very popular. Kokanee have long been a part of the food chain for Lake Tahoe's trout population besides providing a great fishery on its own merit.
Kokanee are a win-win for every lake in which they are located in the state, whether as a food source for other fish species or as a draw for anglers seeking these tasty land-locked sockeye salmon. The tournaments and derbies held in support of this fishery have a positive economic impact on surrounding communities: So this begs to ask the million dollar question, Why aren't there Kokanee in Lake Shasta?
As a kid coming up to Shasta from the Bay Area in the late 60's, I think I remember something about Kokanee in the lake, but I am not sure. I remember also, mention of Kamaloop Rainbows from Canada being stocked there as well, but I was young and not sure what happened to those stocking programs.
With the successes of Kokanee in nearby Whiskeytown and Trinity Lakes, having a successful program at Shasta seems a no-brainer for so many reasons, and any reasonable arguments against are easily excused away.
One of the usual arguments is about finding a reliable nearby source of eggs. Yet, just around the bend, Whiskeytown's population is self-sustaining, with the potential of DFW stocks to augment the population. Spawning kokes can be captured during one of the spawning runs from either Clear or Whiskey Creeks providing an easy source of eggs. Volunteer groups from many local angling orgaizations and Kokanee Power already assist the CADFW in other waters collecting fish for stocking purposes, so there is a ready source, and collection, rearing, and stocking program in place.
Another argument that was used to change the coho stocking program at Oroville to that of landlocked king salmon, would be the fear of kokanee escaping into the waters below Shasta Dam and impacting other fisheries. The fear of impact is minimal at best. The examples provided by local waters with kokanee should midigate concerns as the waters of Trinity River below Trinity have not been impacted by kokanee and Whiskeytown empties into Clear Creek which is a direct tributary of the Sacramento River, and there have not been any kokanee related issues.
Lake Shasta has all of the criteria to build a great self-sustaining kokanee fishery, with depth, cold water, ample food sources, along with rivers and creeks to provide spawning access. The lake has the potential to become a trophy kokanee lake in a few year's time, especially if some of the larger spawners are selected and utilized to provide a strong gene pool as kokanee are re-introduced into the lake. The benefit to other fisheries in providing another food source, is that it has the potential to solidify Shasta lake as a trophy spotted bass destination for size, as well as numbers of bass caught. The king salmon fishery should also greatly benefit helping the kings grow proportionately larger.
Kokanee provide a great fishery enjoyed by many, and the fishery continues to grow within the state. Many tackle companies are designing rods, reels, and tackle specifically for kokanee and their anglers, which is also helping to grow the industry. Having kokanee in Shasta lake just makes sense. There are a couple of ways to get the ball rolling towards a possible realization. Support and make your wishes known to organizations like Kokanee Power that promote kokanee fishing throughout the state. The other way is to directly contact some of the individuals with the CDFW who are the decision makers for stocking programs within the state. Neil Manji is the Regional Manager in the Redding office of the CDFW. Curtis Milliron is the North Region 1 Program Manager of Fisheries and Kyle Murphy is the Fisheries Branch Flatwater Senior Biologist. Hopefully, kokanee will be swimming soon is Shasta, adding to what is already one of the premier fishing destinations in the West.
Gary Heffley has been a valued contributor to MyOutdoorBuddy for over 10 years serving as manager, sales representative and reporter for much of Northern California. He is an avid outdoorsman and loves to fish and write about his adventures. He has a long history in the Sporting Goods field and uses that extensive experience to impart his wisdom in his writing.
Next Report >
Next Report >
More Reports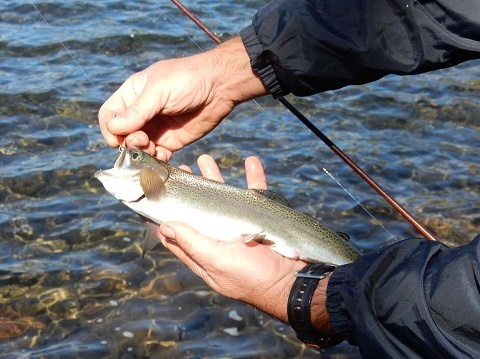 9-21-2016
Last Sunday morning I hiked into the Thousand Lakes Wilderness, which is located off Highway 89 in the Lassen National......
Read More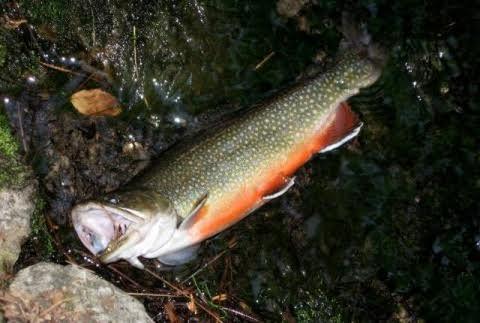 9-20-2016
Hat Creek after Labor Day continues to receive CDFW plantings. This is great news for those anglers looking for uncrowded......
Read More
Nevada.FishReports.com © 2019. All Rights Reserved.
Website Hosting and Design provided by TECK.net