Nevada Fish Report
Fish Report for 8-28-2017
Doug Busey Fish Report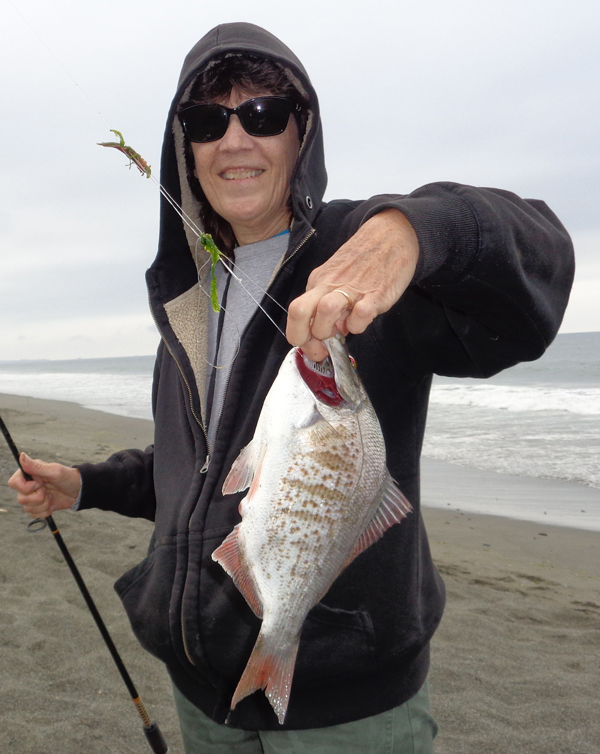 Hello fellow anglers, I have away for a couple weeks fishing in Oregon and northern California. Oh did we get into some nice fish, which I will give you the full story at the end of this report.
I would like address one seriuos issue I have been witnessing. last week when we returned from our trip, we spent a few days on the east Carson River. I fished until around 7:30 pm each evening. On my way back to camp, I spotted four illegal campfires along the river. How many times do we have to put our firefighters lives in danger to get the message out there.  There is "NO CAMPFIRES" allowed out side of a designated campground area. A designated campground is defined as a campground with sign that states "campground area" and most of our areas have a designated camp host. While it is legal to camp along the river, you are not allowed to have a camp fire. For instance, as you enter Indian Creek Reservoir at the end by the dam. The sign reads "no campfires or charcoal bbq's" gas stoves only allowed. But you may have a fire in the campground area located on the other side of the lake. Lets all try to save what wilderness and public lands we have left. Not to mention the safety and well being of our firefighters.
Lake Tahoe:  Fishing has been Great one day and very tough the next . 2 to 6 pound Mackinaw were basic fish netted with some larger specimens netted from 7 to 24 pounds. We have released several larger mack's at 18 , 22 and 24 pounds. Cal Neva Point , Sugar Pine point, Dollar Point and the Tahoe City shelf have been producing with effort . Working and bouncing bottom 100 feet to 250 feet with flashers and minnow, white and chrome dodger and minnow, and flat fish in chrome/ white . Also bringing presentations just under the kokanee schools in 100 to 120 feet in over above 300 feet to oo feet have resulted in some larger monsters, as well as dragging presentations over cliff edges to deep water drop Offs . 90 percent were Lip Hooked and the Hooks came off in the Net . ::)  Cave Rock , Lake Forrest , and Sand Harbor are Open . Fishing is going to be improve as usual and get really good this fall with all this feed in the water this summer getting everything started with a Bang !  Have an Awesome Fall in the High Sierras and be Safe out there People !! Captain Gene St. Denis Blue Ribbon Fishing Charters  (530) 544-6552
Caples Lake: The lake level has dropped over the last few weeks. Fishing has been productive for anglers  trolling flashers and a 1/2 a worm. Mike Harris from Roseville CA caught a 4 lb rainbow. Shor eanglers have done fair from the dam, spillway or the Wodds Creek area with salmon eggs or throwing 1/8 oz Kastmaster lures. The CDFW planted the lake with cathcable rainbows this month. The resort is open with  fishing boat and kayak rentals. The EID day use area and boat ramp is open. For more information stop by the Caples Lake Resort.
Woods Creek: Small lake located just south of Caples lake off highway 88 with fishing, hiking and camping. The CDFW planted the lake this month with catchable rainbow trout.
Blue Lakes: The road is open to upper and lower Blue lakes. Fishing has been fair for anglers using small spinners or salmon eggs. The CDFW planted the lake this month with catchable trout.
Burnside Lake: Located 8 miles in off of jct 88 and 89 in Hope Valley. The road is rough and one should take their time venturing in. I have not had any reports from this area for awhile. I have heard a rumor of making this a trophy trout lake in the future, but this rumor has not been substantuated.
Indian Creek Reservoir: The lake level has come down a little. The weeds are plenty and the fishing has been spotty over the last few weeks. The lake holds many trophy sized rainbows and cutthrout trout. If you can deal with the weeds, the reward is in the 2-6 pound range. Ther is also a lot of smaller trout in the lake. This time of year can also be rewarding for bass anglers.  The lake has largemouth bass ranging from 8 inches to a couple pounds. Best areas are by either one of the dam areas off the rocks. Two ways to enter. Of hiway 89 on Airport rd or from a dirt road off Diamand Valley Rd.
West Fork Carson River California Side: The water level is great, while the fishing has been a little slow from the reports I have received. The Alpine County Chamberof Commerce and the South Tahoe PUD planted the river on August 10th with 12 inch to 4 pound rainbows. Take little walk away from the bridges and you find some of those larger fish along the banks. For more info stop by Todd's Bait and Tackle.
East Fork Carson River California Side: Renee and I fished for a few days last week. We used small silver spinners or powerbait. We caught many of those small cutthroat trout planted by the CDFW. I caught so many I went to a barbless hook set up. I talked with few anglers that had good luck using salmon eggs and a small split shot. The river was planted on August 10th by the Alpine chamber of Commerce and the South Tahoe PUD. Those fish were 12 inches to 6 pounds. I had beeter luck in the faster moving areas then the deep pools. For more info stop by Creek side Lodge.
Topaz Lake: Fishing has been slow for trollers. I ventured up with fellow angler Tom Blotter last week. We still fished with Powerbait and Berkley Gulp for the morning hours. Tom had me 7 to 2 fish on the fish count. We then trolled Rapalas in on the south end and we picked up a few more. Most trout were in the 12 to 17 inch class. The water level has started to come down a foot or so over this last week. For more information stop  by Topaz Landing Marina.
Alpine County Back Roads: Pleasent Valley, SchneiderCow camp, Highland Lakes (rough road), Poorboy, all open to vehicles. While Loope Canyon, Silver Hill and Wolf Creek roads are closed indefinately.
Heenan Lake: The lake will open on September 1st. Open Friday through Sundays only. Catch and release with artificial lures or flies only, with barbless hooks. Located on top of Monitor pass on hiway 89. Boats or canoes are allowed with electric motors only, and it is carry down access. If you want to see what a large bowl of Cherrios looks like, come check out the amount of float tubers that enjoy the lake.
I hope you have a great adventure on your next fishing trip. Renee and I started out for Oregon on August 6th. We fished with my cousin Steve Hacker for steelhead on the Rogue River the first day. We caught a few small throwbacks until I casted my #9 Panther Martin lure across the river and thought I had a snag. When I mistakenly gave it a little slack, I realized I had hooked a very large steelhead. With one whale like jump, he spit the lure and was gone. I call that LDR, which means long distance release. The next day we got up early and decided to beat the heat of 103 degrees with 30 percent humidity and head to Brookings OR to do some ling cod fishing. We all caught limits of green and blue ling cod ranging from 4 to 16 pounds. Renee of course reeled in the biggest that morning. We also caught 9 black and blue rock cod ranging 3 to 5 pounds. As a note, renee also caught and released a 10 pound red vamilion, which in Oregon are illegal to keep. We came home to relaxe for a day and renee and I headed for Crescent City CA. There we stayed for a few days in a nice cloud covered 68 degree weather. We went fishing with John Martin, owner of the hardcore fishing trips. It was Renee John and I as we venture out 7 miles off shore wher John had a secret place he liked to fish. Funny thing I forgot to say was, we left after all the sport fishing boats had left the port. We fished for a for about 3.5 hours and caught our limit o ling cod rsanging 4 to 15 pounds plus our limits of blue and black rock cod, quillback, vamillion ( which is legal to keep in Cailfornia) I also caught an 8 pound canary rock bass, which was 5 ounces shy of the CA state record. We had released many fish that morning. We both were exausted and had caught over 150 pounds of fish just in that trip. Now for the other part of that funny thing, we returned to the harbor, cleaned all of our fish before those sportfishing boats and they did not come close to the fish we caught. We returned back to the hoteland decided to do some serf fishing the next day. With great advice from Eglund Marine Supply, which also has and excellent fishing section. We headed up the coast  about 12 miles to a secluded beach area. This was Renee's first time serf fishing. But after a half hour or so, she had it down to science. We caught the biggest serf perch I had ever caught. They ranged from 8 inches up to a couple pounds. That night I called my cousin to tell him we would be coming back the next day, and told him of our success. Steve told us to stay there and meet his son at Brookings harbor the next morning to go out for albacore tuna. With all the fish we had caught we had to decline the invite just to rest a few days before starting home to fish some more. I have to tell you. If you ever get up to Crescent City CA and want to have great fishing adventure, call John Martin at 707-696-FISH. I guaranty you he will put you on the fish. The only thing you might want to do, is get a bigger fish cooler.  Good fishin' and tight lines.
Good luck on your next fishing adventure. If you have a question. a report in our local fishing area or have a photo of your catch, send it to

[email protected]

. Hope to see you on the waters. Good fishin' and tight lines.
www.NevadaFishReports.com © 2023. All Rights Reserved.
Website Hosting and Design provided by TECK.net